We all know that dropshipping in the USA has already proven to be a very successful business model, but what about other markets, such as the UK?
Well, we are here to tell you that dropshipping in the UK is a great idea as this region has low competition and high demand. 
Now, as many of you want to start dropshipping there, we decided to write this article where we explain in detail why dropshipping in the UK is worth it, what are the legal requirements and give you a step-by-step guide on how to start a dropshipping business in the UK.
So, here we go.
What is dropshipping and how does it work exactly?
Dropshipping is this great business model that allows a store owner or retailer to sell products without actually owning an inventory of their own or even a distribution center to store and ship the items. In fact, the products they sell come from a supplier or a manufacturer, who is also the one who ships those items directly to the customer. 
Here's how the process actually works. 
Why dropship in the UK? 
So, can you also dropship from the UK? Is it legal? Yes to all these questions, of course, you can dropship in and from the UK. Also, as dropshipping is just a business model, it's completely legal to start such a business in the UK.
Now, as Brexit happened, it's a bit more complicated to dropship in the UK from the outside or dropship from the UK to the outside world. We will explain what that means exactly later on. 
Is dropshipping still worth it in the UK in 2023? 
In other words, is dropshipping profitable in the UK? Yes, the UK is one of the leading ecommerce markets in Europe. According to Statista, the UK online sales reached 693 billion British pounds in 2019. So, this means that between 2016 and 2017, ecommerce sales went up by 80 billion British pounds. How awesome is that? 
Not convinced? Here are some more ecommerce facts that will definitely help to make up your mind and dropship in the UK. 
As you can see below, Google Trends confirms this trend as well, showing a rise in the search term dropshipping. 
Step-by-step guide on how to start dropshipping in the UK
At this point, you already know what type of company you should register in the UK and all the other legal aspects, such as which taxes you need to pay. It's better if you start the legal procedures as soon as possible.
So, you're now ready to build your actual store and start selling to customers in the UK. Here's a short sum-up of the most important steps to follow to build a dropshipping ecommerce store. 
Choose your company name & domain name, create your logo & business email address
First, you need to pick a name for your online store and then buy a domain name. Before choosing the name of your store (and business) you should know a bit about the niche and type of products you want to go for. So, do a Google Search and see what your competition went for, or brainstorm the idea with your family and partners. Now, before making the final choice, check if the domain name is free, we recommend GoDaddy and Namecheap. 
Now, when it's time to create a logo, if you want something fast and not too expensive, you can find freelancers that can do that for you on Fiverr. 
You also need a business email address, like [email protected]. You can use a service like Google Workspace (formerly known as GSuite) or Microsoft 365. We recommend Google Business as it's easier to setup. 
Here's a great tutorial on how to create a Google Business email
Setup an online store 
This is a very important step that you need to go through before actually making money from dropshipping. Now, building an amazing, user-friendly, and secure ecommerce store is essential. 
We recommend ecommerce platforms like Shopify, WooCommerce , Wix or BigCommerce. 
Now, for example, if you go for either Shopify or WooCommerce, then you will have a platform that will give you all the necessary tools needed to create an awesome ecommerce store – from great themes to customizing your design, adding your domain, managing inventory, taking and shipping orders, receiving payment, and more.
Choose payment methods
The next step is also very important as it has to do with how you get the payment from your customers. Before deciding, you need to check which are the most popular payment methods used by customers in the UK. 
And according to Statista, 49% of customers used PayPal to make payments while 37% used a credit or debit card. There only a few who used digital wallets, such as Google Pay, Amazon Pay and Apple Pay, to pay for items online. 
Among the most popular payment gateways in the UK are:
Paypal

Stripe

Amazon

Shopify
You can read more about each of them in this article
Choose the right sales channels
Now that you build your online store and decided on the payment methods to use, it's time to pick a few selling channels for selling your products. 
In short, a selling channel is a place where you sell your products. The most popular in the UK (and worldwide) are Amazon, eBay and Facebook Marketplace. 
In the last years, selling your products only through your own ecommerce store has become the norm as this gives you more freedom to market your products everywhere you want. 
Pick the right products for dropshipping
Now, picking the right winning products to sell and dropship can actually make your online store a successful one or not. So, choosing a winning product is a huge step, one that you need to pay extra attention to. 
Among many other aspects, picking the right product and niche has to do with the following:
The "wow" factor of the product: look for unique, amazing products, the ones that will just make your customers exclaim: Wow! Why haven't I seen something like this before? I want one now!

Hard to find products: look for products that you don't normally find in a retail store or in their area. 

Good profit margins products: be sure the product you choose has a profit margin high enough that it can cover the cost of goods and advertising.

A product that solves a problem: this is also essential and is one of the most important qualities of a dropshipping product – it should solve a problem.

No advertising restrictions – choose a product that you can market on Google and Facebook.
Here's a short guide on how to find a winning dropshipping product 
10 most popular dropshipping niches at the moment in the UK
Now, if you want to know which are the top 10 most popular dropshipping niches at the moment, here they are.
Toys (such as flying toys)
Toys are one of the most trending products lately in the UK and worldwide. According to Shopify, toys like reading toys and flying toys saw a global order growth of 294% and 275%.
At the moment, the toy market is valued at $110.97 billion and has also seen a huge increase in demand in the last year. So, if you start with dropshipping toys for kids, such as flying toys, and market them accordingly, you can't go wrong. 
Vinyl LPs and CDs
The records category products, such as Vinyl LPs have been trending in 2021 and it seems they will keep the same trend in 2022. These types of products are the perfect addition to a retro or vintage music online shop and can be sold all year old, either as gifts or normal products. 
The records global market size is $1.3 billion, which mean you can target many types of customers, from vinyl records fans to physical and digital records customers. 
Beauty Products (such as false eyelashes)
Beauty products will always be trending in the UK and many other markets. These days, you can sell so many types of beauty products, but the trending ones come from the makeup products category. 
So, we recommend choosing products like eyebrow enhancers or false eyelashes besides other more traditional beauty items, like brushes, pencils, liners and other makeup accessories. 
Eco-friendly products (such as reusable water bottles or foldable eco-friendly shopping bags)
Eco-friendly products started to trend a few years ago due to more and more people wanting to use more environmentally friendly items. 
What's even best is that you can add eco-friendly products to any type of online store, from beauty to fashion stores and toys. These days, there are many suppliers who produce and sell high-quality eco-friendly products so it's not difficult anymore to find and sell them. 
Reusable water bottles and eco-friendly shopping bags are among some of the most trending products in this niche. 
Pet care products (such as cat leashes)
Products for pets are also trending at the moment and will probably be one of the most popular niches on the market for a while. 
And what makes this category of products perfect for dropshipping is that all types of pet supplies can be purchased online, there is no need for pets to try them on. 
Now, you can sell all kinds of pet supplies from the basic ones like cat and dog leashes and dog beds to cat towers and climbing walls. 
Women clothing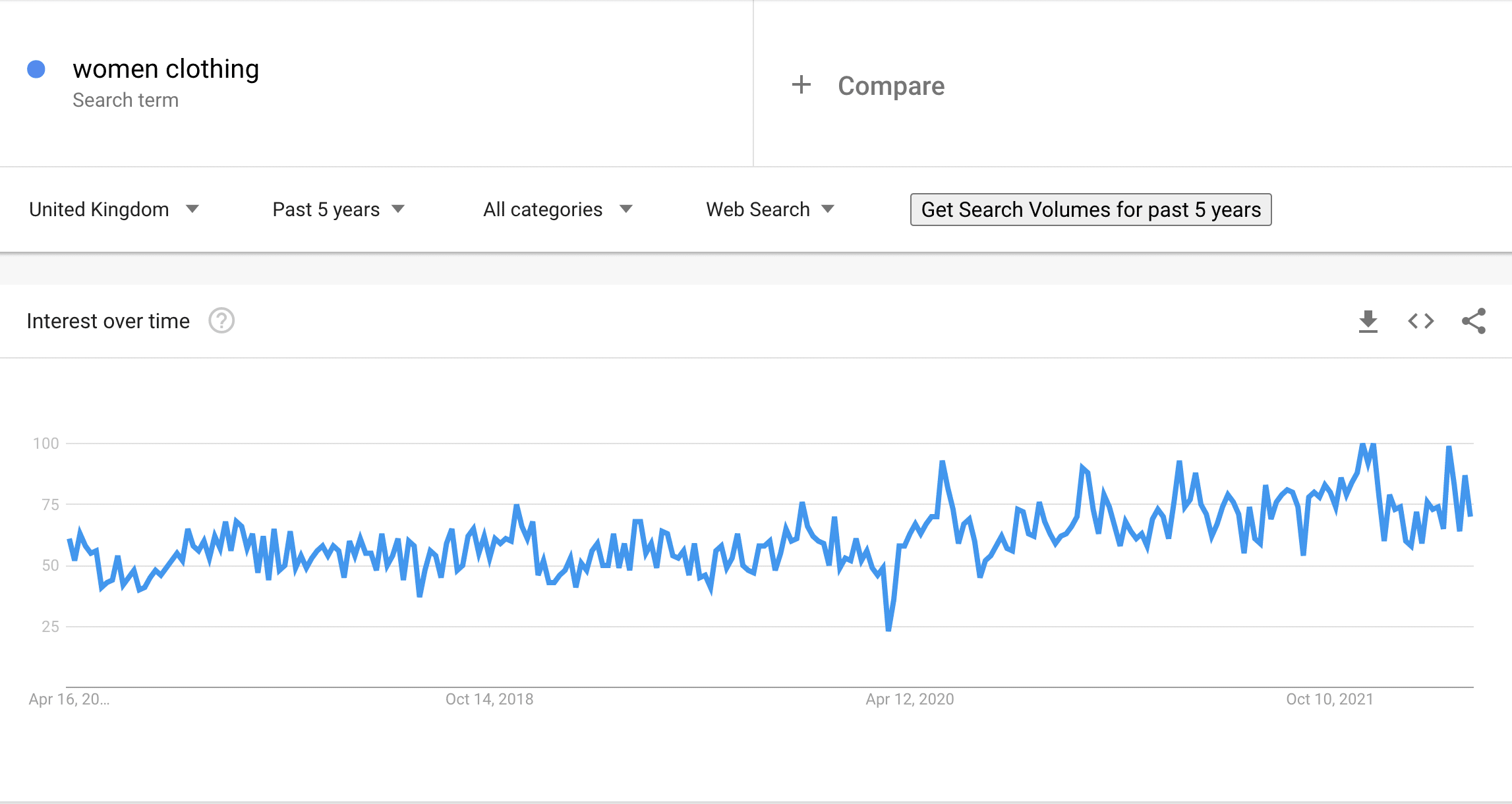 This is also a niche that will always be trending, just like beauty products or pet items. What's more tricky here is to find the right type of clothing and supplier that can help you stand out. 
We recommend either going for one-of-a-kind, custom-made pieces that come from local designers or trying to find day-to-day clothes, like t-shirts or hoodies, that bring something unique to the market, from the quality of the material to the message they send. The idea is to sell clothes that make your customers feel good. 
Home decoration (such as cushions)
Home decorations have been trending for years but in the post COVID19 era, the demand for them has been even higher as people are spending more and more time at home. So, all this means that they want to invest more in home decoration items that make their working and living environment more beautiful.
As long as the products you choose for home decorations are of high-quality and give a warmer vibe to your customer's house, then you can add almost any type of home decor items to your store, from cushions to posters and prints. 
Tools (such as drills) 
Fixing things in the house and being as independent as possible is also the effect of the COVID-19 pandemic, people had to manage these things by themself. And once people figured out they can use tools for the basic fixes in the house, they didn't stop once they could return to their normal life.
You can dropship all kinds of tools, like drills, grinders, and saws, as this is a trending niche that will continue to grow in the next years. 
You don't need to trust us or Google Trends, just check this report by Global Market Insights that says the home improvement market is expected to skyrocket to over $1 trillion in sales by 2027. 
Tech or gadgets  (such as drawing tablets)
This was to be expected too, of course, gadgets and the latest tech are and always will be on-trend everywhere, even in the UK. If you decide to dropship products from this niche, then you have a huge audience but also lots of competition. One way you can stand out is to pick suppliers that can ship the latest gadgets ultra-fast. 
There are so many types of gadgets and tech you can opt for, from smartphone and iPad accessories to drawing tablets. 
Gifts
Now, who doesn't love a great gift? Everybody, of course! Be it a loved one, a friend or a colleague, gifts have a huge audience. You can have a store with only gifts or you can add gifts to all types of stores, even to a tools store, you can add sets and market them as the perfect gift for her or him.
So, keep in mind to always have some gifts sets in your store, as they will always be trending and bring you more sales. 
You can add gifts for her or for him, eco-friendly gifts, gifts for babies (if you have a baby care online store) or gifts for the home (if you have a furniture store, for example). 
So, these are our top 10 trending products you can start to dropship if you are a beginner.
Read more about the top 10 trending products and niches to dropship this year
Where to find the best products to dropship?
Now that you have decided which niche and products to dropship, it's time to look for platforms where you can actually find them. These places can be either a marketplace like Amazon or eBay or dropshipping platforms like AppScenic. 
One thing you should keep in mind is that this step is as important as deciding what product is a winning one. This means that finding suppliers is a huge part of your dropshipping journey. 
The main idea is to find a supplier that can offer the product you want at the highest quality possible. The quality of your products is highly important if you want to succeed. And on top of that, your supplier has to deliver really fast and can be reachable at any time. 
Now, this can be very difficult, as marketplace or platforms like Amazon UK, AliExpress UK, Banggood UK, Wayfair UK, Costway UK, VidaXL UK, Doba, BigBuy, CJDropshipping UK or eBay UK can prove to be full of unreliable suppliers and this will make things very complicated for you.
Most of these platforms are not automated, you have to actually place orders manually or upload tracking numbers manually, plus there is no stock and price sync, which can mean lots of other problems, for example, what if the product goes out of stock or the price doubles overnight and you're not aware until is too late?
Now, AppScenic is an all-in-one platform, offering all these great features plus a huge range of unique and high-quality products from top and reliable suppliers, that can also deliver ultra-fast.
How to market your products?
So, have you decided on a dropshipping platform that offers multiple great suppliers for your niche? Then it means you have now imported some products to your store and it's time to start advertising them and get the attention of the right people. 
As you can imagine, there are many ways you can market your products, but if you're just starting, then we recommend Google Ads (specifically Google Shopping Ads), Facebook Ads, TikTok, and Pinterest. We will discuss these advertising channels in a future article. 
In the end, it really depends on the niche and type of product you sell and the marketing approach you want to have. What we can tell you is that by far Facebook is known to work best for cheaper products in the $10-100 range, Google Ads works best for medium to high priced items above $100, and TikTok is the fastest growing advertising platform for the dropshipping business model.
What about dropshipping products from the outside of UK? Is this still an option? 
As said at the beginning of this article, it's a bit more complicated after Brexit to dropship products from EU to the UK. So, what does Brexit actually means for dropshippers?
Well, even though things got a bit more complicated after Brexit, it's not the end of the world for dropshippers who want to sell products from the outside UK to this region. 
This is a big subject to get into it over this article, but to sum up,  Brexit meant the reinstation of a customs border between the EU and the GB and the introduction of new VAT rules for goods imported into the UK. 
So, for goods shipped to the UK from outside, the following changes happened: 
Merchants have to collect VAT on orders shipped to the UK below £135. But if you're a merchant using an Online Marketplace (OMP) to supply imported goods with a value below £135 to UK customers, the VAT liability is shifted to the OMP.  

Merchants need to file for and remit VAT to

HM Revenue & Customs

(HMRC) every quarter. 
We recommend reading this article for more about how Brexit impacts your online business
Why do 90% of the UK dropshippers fail?
Well, yes, that's a fact, and there are many reasons why that happens. But one important reason they fail has to do with choosing the wrong suppliers like the ones found on AliExpress and Oberlo. On these platforms, suppliers have long delivery times and offer low-quality products.
Find out more about some of these mistakes
Another reason is that most of the people that go into droshippers don't actually take their time to do proper research, check what product works on their market or even believe this is a business that will bring them a lot of money, very fast. And so after only a couple of months of dropshipping, once there isn't a lot of profit coming their way, they quit and say dropshipping is dead. 
Well, that's definitely not true, they just didn't study enough before actually deciding if this is the right business model for them. Dropshipping takes time, won't bring you lots of profit fast and you do need to invest some money so you can start selling your products.
And that's why we created AppScenic, we wanted to give dropshippers a platform where they can work only with top-tier reliable suppliers that follow high-quality standards and can deliver high-quality products super fast. On top of that, this is an all-in-one platform, that automates everything for dropshippers, so that they can spend their time actually marketing their products and understanding what works for their customers. 
Do you need to register a company in UK?
Now, once you made up your mind about dropshipping in the UK, you also need to check what are your legal obligations and decide what type of company you need to setup in the UK. 
In order to start selling, receiving payments, and paying taxes, you need your business to be legal and compliant. 
Choosing the right legal entity has to do mainly with whether you are living in the UK or not. 
If you are living in the UK, the recommended ways to register a company are:
As sole trader

As a limited company
Both of these can be great choices when you're starting a dropshipping business. The main difference between them is the taxes you need to pay. So, if you go for a sole trader business, you will have a simpler accounting system and on the whole, this type of business it's easier to run in terms of finances. 
Now, as a limited company or Ltd., you have better taxes if you have significant profits. Also, this type of structure will give you better protection from litigation as your assets are separate from the ones owned by the company.
If are want to dropship in the UK but are living outside of this region, then we actually recommend consulting with a UK accountant before making any decision so you know what's the right move there, what type of legal structure to choose and if you need to pay taxes or VAT. 
As you may imagine, just like you can setup a dropshipping business in the USA from the comfort of your home, you can do the same in the UK.
Here are some popular 3rd party Ltd. company formation providers (all of these offer services for dropshippers outside the UK too).
Rapid Formations – different formation packages available that have slightly different prices; they also offer a plan that can protect your home address from the public register. 
1st Formations – offers quite a few company formation services, from an easy digital registration package to a full package service that provides VAT registration, registered business address or secretary service.
Company Formation MadeSimple – has 24/7 support and also offers different packages, from a basic and quick registration one to a complete package that will get your business fully compliant.
Here's a full list of company formation companies recommended by the UK government
What are your UK tax obligations?
As a UK business owner, you have tax obligations, which means you need to find out what are the taxes you need to pay. We recommend discussing this issue with a local accountant or with the same 3rd party company formation provider, most of the ones above provide accounting services too. 
Now, for the sake of this article, we will mention below what are the three main types of UK taxes for a dropshipper:
1. Income Tax 
This is a percentage of your annual dropshipping profits and it's different from one country to another. 
2. VAT
In the UK, VAT needs to be paid by customers for items sent from outside the UK to Great Britain or for the goods that are coming from outside the UK and the EU to Northern Ireland. 
You can opt for customers to pay the VAT to the delivery company at the time of delivery or pick up a parcel if you don't want to include it in the actual order. 
However, we recommend adding the VAT on the order so that your customers can decide if they still want the product or not. This way you avoid confusion regarding why they need to pay more after they paid already for the product.
3. Customs Duty
You will also need to pay customes duty too when you work with suppliers outside the UK. These taxes are applicable only for items that are excise goods or cost more than £135.
Here's more about your obligations when the shipment comes from outside the UK
How much does it cost to setup a dropshipping business and start selling? 
We're almost at the end of this very long article, but before concluding, we want to say it once again: starting a dropshipping business in the UK (or anywhere in the world) is not for free. 
You do need to have an initial budget to invest in setting up this type of business. From registering your company, buying a domain name and deciding on an ecommerce platform for building your online store to paying for dropshipping platforms (like AppScenic) and marketing your products. 
Here is an example of how much it can cost to start a dropshipping business in the UK:
Lld. formation company full package: £100 one time cost
Domain: £15 per year
Ecommerce platform (such as Shopify): £29 per month
Dropshipping platform (such as AppScenic): Between £35 and £100 per month
Marketing (such as advertising on Google and Facebook): Between £1000 and £2000 per month
So, if you want to do this right, and set up a proper dropshipping business with an awesome online store and all the features included, and also keep some budget for advertising, you need around £1500-2500 to start with.
Conclusion
We really hope this article didn't scare you and actually helped you understand if dropshipping is for you or not. 
And, yes, it's true, dropshipping is not a business model for everyone, it takes a lot of time and patience (plus money) to start such a journey, but if you're truly invested, passionate about it, and do this right, then, in the end, it will all be worthwhile and some more.
So, are you ready to start dropshipping?