Happy New Year! It's 2022 and we still can't believe it! That's because last year meant so much to us. 2021 was our year – we got to launch AppScenic and our dream of building the best and most advanced dropshipping and ecommerce automation platform in the world has come true.
Even though we know it will be difficult for this year to match 2021, we believe 2022 will be our best year yet! That means we will keep on updating AppScenic, making it the best dropshipping platform there is.
Now, for a glimpse of what you can expect from us at AppScenic and the dropshipping world in 2022, read on.
I'm a retailer, what can I expect from AppScenic in 2022?
We made a promise that we will never stop making this platform the best there is. Well,  that means we will always come with new features and integrations to help you reach new heights as a dropshipper!
Here's what you can expect in 2022 from us if you are a retailer:
Up

to 2,000,000 products on

AppScenic

Marketplace by the end of this year.

Hundreds of unique suppliers will join us, so be sure to keep an eye on our weekly newsletter if you want to be the first to sell their products.
We will release many more ecommerce integrations for retailers. 
We will update our platform constantly by continuously adding innovative features, such as a wholesale functionality feature and smart shipping & advanced tracking. Keep an eye on your email, as we're going to let you know more about them as we release each of them.
Get ready for the AppScenic Academy – we will launch it very soon. This is a place specially created for all retailers who want to become better at dropshipping. Here is where we are going to share our

extensive knowledge about dropshipping, all the ins and outs that we have learned over the years.

I'm a supplier, what can I expect from AppScenic in 2022?
We listened to your feedback, and already in 2021, we released two NEW updates available for all our Suppliers – Advanced Shipping Settings and WooCommerce Integration.
Here's what you can expect in 2022 if you are a supplier:
Many more ecommerce integrations to come. 
New innovative features will be released. Among them will be a wholesale functionality feature and smart shipping & advanced tracking. 
So, to sum up, in 2022 retailers can expect to find many more great products and unique suppliers on AppScenic. And we will release many more advanced features and integrations that are meant to help both suppliers and retailers have a better experience on our platform. 
Now, what can you expect from the dropshipping world in 2022?
2022 will be at least as great as 2021 when it comes to the dropshipping world, that's for sure. You don't need to trust our word for it, just do your own research and check what the experts have to say.
We did a search on Google Trends and as you can see the interest for dropshipping kept on growing in 2021. We expect the trend to be at least the same in 2022.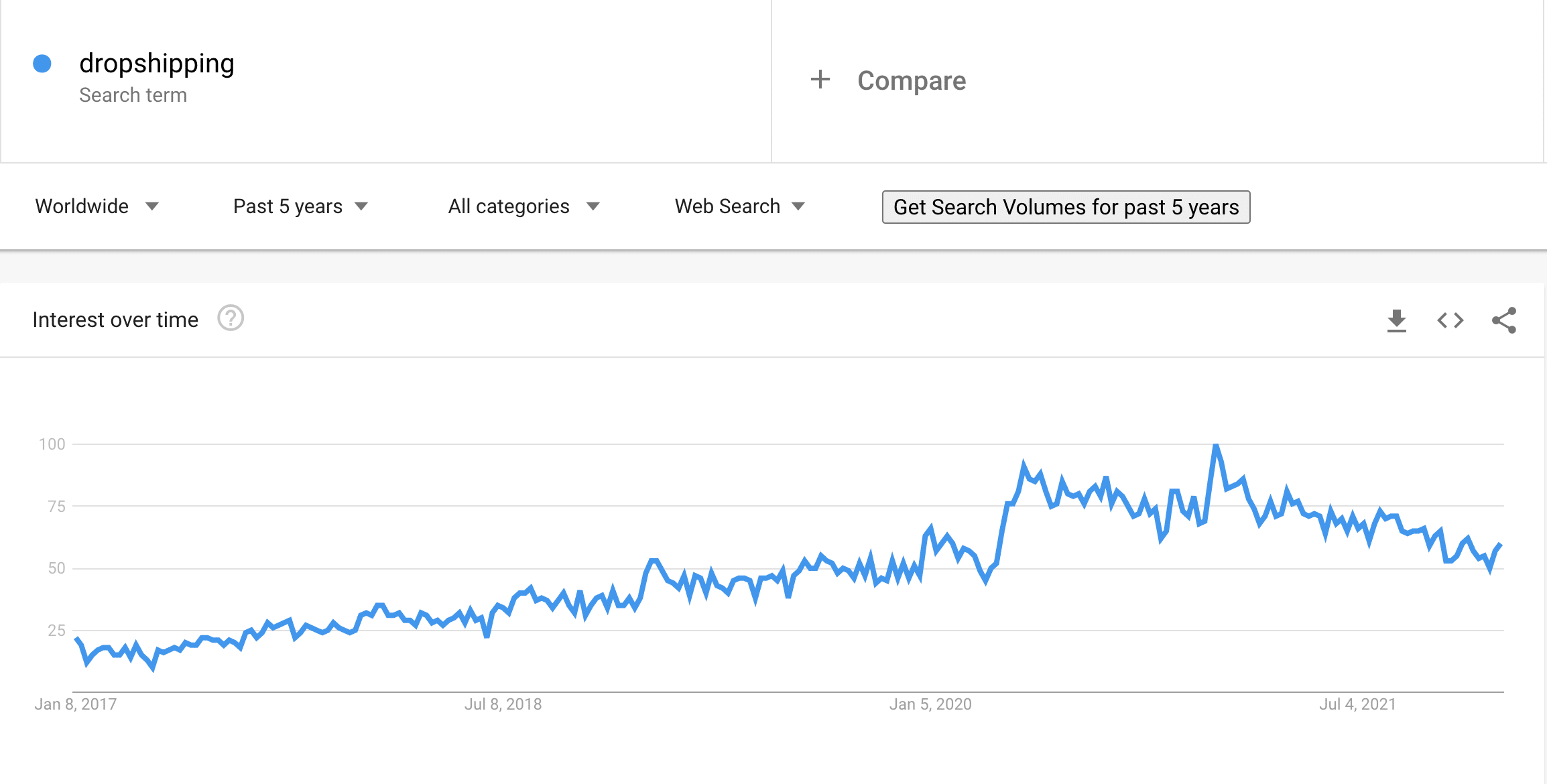 A report by Grand View Research, Inc. states that the dropshipping industry is expected to reach $557.9 billion by 2025. (Here's the full report)
Here are some more dropshipping and ecommerce key statistics
Not sure if dropshipping is still worth it? Check this article to find out why dropshipping is still such a strong and profitable business model.
All of these mean you made the right decision when you decided to give dropshipping and AppScenic a try.