As Shopify is one of the most used (and popular) ecommerce platforms for dropshipping worldwide, we've thought why not help you and make a list of the best-rated Shopify apps that can help your online store grow, attract customers and stand out. 
So, below you have the best Shopify apps for SEO, conversion, email marketing, customer service, reviews and dropshipping (plus the best apps for page building, social media and Google advertising).
Here we go.  
The best SEO apps for Shopify
With a Shopify rating of 4.6, this is a great SEO tool that will help you find and solve search engine optimization issues, which can in turn bring more traffic to your online store. The app automatically checks page titles and descriptions, structure, speed, and other such issues. 
So, Plug in Seo for Shopify is what Yoast is for WordPress. 
Key Features
Free installation

Troubleshoots a multitude of SEO issues, such as titles, meta descriptions, ALT text, broken links, and more

Provides directions to fix any issues
Pricing
They have a Free Forever plan that you can use for SEO and speed issue checks. If you want automatic SEO improvements and broken link fixes, then you will need to upgrade to their paid plans, which start at $29.99/month.
Having an optimized image is essential for Google, so this Shopify app is also a great addition to your store. It has a 4.7 on Shopify, was built exclusively for Shopify stores, and store owners just love it. Among many great features, this app also includes a one-click install to get you up and running in under 30 seconds.
Key Features
One-click installation

The only SEO app built exclusively for Shopify

Automated SEO Optimizer that fixes SEO issues based on customizable rules
Pricing
It includes a Free plan you can use forever and has everything you need to get your images optimized for search engines, such as alt-text optimization, unlimited image sync, and checking new images on a weekly basis. If you want more, then you can go for a paid plan that offers complete SEO optimization, which starts at $34/month.
Another app with a very high rating on Shopify, 4.7 to be exact, SEO Manager actually lets you understand more about how search engines like Google Search see your store. And, of course, it also provides real-time feedback on how well your search engine optimization (SEO) efforts did. 
Key features
An SEO tool that includes SEO Scan, meta content tools, keyword suggestions or Google Search Console features

JSON-LD structured data that gives Google the right information 

Broken links (404 errors) management
Pricing
Unfortunately, they don't have a free plan available, but you can try their app for 7 days before deciding if you want to pay $20 per month for it.
The best conversion optimization apps for Shopify
With a 5.0 rating on Shopify, Personizely is one of the best conversion marketing tools at the moment. It helps turn your users into customers by collecting useful data about them, and therefore boost your sales with targeted email pop-ups, cross-sell, upsell, bundle products, sales motivation bar, free shipping bar, promotion bar, and other such popups.
In other words, use this app if you want to personalize your website according to a user's activity history, referral source, geolocation, cart value, order history, and create multiple versions of the same page.
Key features
Convert your users to prospects and customers through email and newsletter popups

Sell more using cross-sell and upsell pop-ups

Use different techniques to identify prospects and customers who are about to leave and target them with exit-intent pop-ups
Pricing
They only offer a free 14-day trial and have paid plans starting from $29/month for 10,000 monthly users.
This app has a 4.9 Shopify rating and it's also a great conversion optimization tool if you want to go for an app that offers a free plan. So, what does it do exactly? Well, it helps you create, personalize and launch different pop-ups or sidebars without any coding knowledge. 
Key features
More than 300 ready-to-use pop-ups templates

Easy to setup pop-ups or sidebars, no need to know how to code 

Personalize pop-ups for different customers and users segments

Drive conversions through customizable experiences
Pricing
As said, it offers a free plan with a 15,000 monthly pageview limit. Of course, if you want more, they have multiple paid plans available from $29/month (with 30,000 pageviews/month) to $199/month with a limit of 500,000 monthly pageviews.
As its name says, this is a free Shopify app (with a rating of 4.9) that simply lets you show a free shipping bar on different pages of your online store. It's also completely customizable and, for example, you can configure it in such a way that only users from selected countries can see it and benefit from your free shipping offers. It's just an easy way to get more sales without getting things too complicated. 
Key features
Helps you get more sales by promoting your free shipping offers on different pages of your website

Customizable free shipping offers based on location, page, device, and more.
Pricing
The free plan offers a fully customizable banner template for your shipping offers and also has device and page targeting. If you want more features, such as geo-targeting, tracking and scheduling features, then you can try the Premium plan at $9.99/month. 
The best email marketing apps for Shopify
Rated at 4.7, Omnisend is one of the best email marketing apps for Shopify ecommerce store owners. If you choose to add Omnisend to your store (which we recommend), you can collect emails from your users and build a huge email list, transform those users into leads with targeted campaigns, and achieve more sales with email automation. You can also include SMS and push notifications.
Key features
Design your email with an easy drag-and-drop editor

Target specific groups of users with your emails

Setup automatic emails with a variety of triggers 

Choose to test your emails with A/B email campaigns
Pricing
It has a Free plan for 500 emails/month (and 60 International SMS) with all features included. But if you want an unlimited email list and 24/7 support, then their paid plans start at $16/month.
Another tool for email marketing, Shopify Email was created with the sole purpose to give you access to a multitude of email templates with just one click, among others. It has a 4.4 rating and we say it's a great app for beginners, as it's very easy to use to keep your customers updated on the latest news or products and convert users into leads.
Key features
It's very easy to use the pre-built email templates 

You can manage email campaigns from your Shopify admin

It automatically updates your emails with your branding and adds products and prices from your store directly.
Pricing
You can send 2,500 emails for free every month. If you need to send more, then you have to pay $1 for every 1,000 emails sent.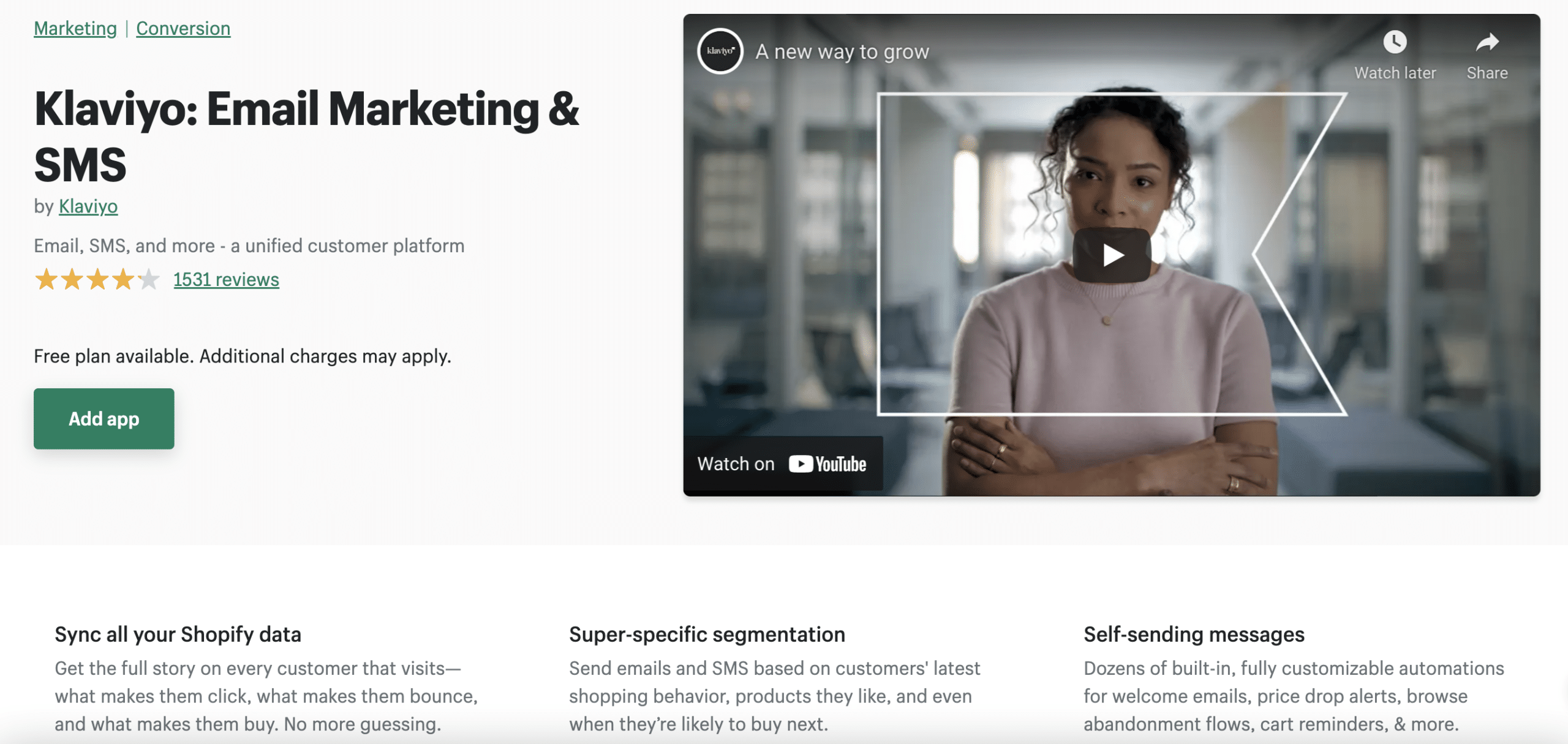 Klaviyo is our last recommendation for email marketing with a Shopify rating of 4.3. It's one of the top apps in this field, covering the entire funnel for customers – from acquisition to conversion and retention. 
Key features
One-click ecommerce integration with Shopify

Pre-built forms and email templates to help you setup your campaigns in a few steps

Built-in automation workflows 
Pricing
Klaviyo has a Free to install plan you can use to send emails to 250 contacts/month. Their paid plans start at $20/month.
The best customer service apps for Shopify
HelpCenter has a 4.8 rating on Shopify and it's a great tool for getting great customer service for your store. It lets you quickly build FAQ pages that will help your customers get the answers they were looking for. It also has Live Chat, chatbots, tabs, ticketing, and other tools that provide the support your customers need. 
Key features
Lets you create a simple FAQ page for the most common questions and issues

You can manage all inquiries from email, chat, or Messenger in the HelpDesk platform
Pricing
HelpCenter only offers a free 7-day trial with paid plans starting at $5.99/month and getting to $19.99/month for the HelpDesk feature. 
Another great customer service tool for small to large ecommerce businesses, Tidio has a Shopify rating of 4.8 and will help you support your customers with Live Chat, chatbots, Instagram and Messenger. The chatbot feature can provide a lot of support as it can handle regular queries while your dedicated support staff can focus on helping customers with complex questions through Live Chat, Messenger, etc.
Key features
Lets you build custom chatbots using an easy drag-and-drop editor (no need for coding skills)

Offers support in multiple languages

Has pre-built templates that help you start in a few easy steps
Pricing
Unlike HelpCenter, Tidio does offer a Free plan with 3 chat operators and maximum chatbot conversations of 100 visitors/month. An additional operator is available at $19 per user/month. If you want to go for the chatbot plan then you need to pay $49/month. 
We all know that Facebook is one of the best social media channels to interact with your customers. That's why it's no wonder that this app is among the best-rated apps for customer service on Shopify. So, once you add this app to your store, you can support your customers via Facebook Messenger.
Key Features
No need for coding skills to set it up

A very mobile-friendly design

Loads asynchronously which means it won't slow down your website.
Pricing
Their plan doesn't include a free one, but you can test it out for 30 days (as they do offer a 30-day trial period) and if you choose to continue their plans start at $12.99/month for 5,000 website visits per month.
The best customer reviews apps for Shopify
With over 8500 reviews in Shopify, this app has a 5.0 rating which means it's definitely one of the best for sending out automated review request emails so that customers can review your products directly inside that email. 
All these will add social proof to your store, and the review stars will also appear on Google Search, Google Shopping, Facebook, and more.
Key features
You have access to a Review Carousel  (6 free themes) to show your customers' photo and video reviews

You can share on Facebook, Instagram, Pinterest, Twitter & Tumblr

Reviews that load instantly (Shopify metafields) and increase the page speed
Pricing
The app includes a Forever Free plan that offers unlimited product requests. The Awesome paid plan is $15/month and includes coupons, Q&A, custom forms, and more. 
Loox is one of the most popular review apps on Shopify (with a rating of 4.9). It not only lets you send automatic emails and ask your customers for reviews and photos of the products but also lets you offer discounts each time the photos/videos are submitted.
Key features
Automated review request emails so you can ask customers for photo and video reviews

Has an easy-to-use interface with multiple review widgets

You can share reviews on social media, SEO, Google Shopping, etc.
Pricing
You can try this app for 14 days and then choose one of their paid plans that start at $9.99/month. 
Yotpo ranks among the best apps for customer reviews too with a Shopify rating of 4.9. If you choose this app you can get product reviews and increase your sales through social proof. So, the app (just like the others) lets you send out requests for customer reviews and then showcase those reviews through widgets. More than that, Yotpo gives you the possibility to moderate all your reviews received and comment on them to keep your customers engaged. 
Key features
Easy to setup (single-click installation)

Boost brand discovery through search as they have an official partnership with Google

Customizable on-site widgets
Pricing
Yotpo has a free plan that includes up to 50 monthly orders. Their paid plans start at $15/month.
The best dropshipping and product sourcing apps for Shopify
AppScenic is one of the best dropshipping and wholesale apps on Shopify. Yes, it's our app, so we're definitely going to talk it up, but no need to trust our word for it, just check its rating on Shopify (4.9), Trustpilot (4.7) or Google (5 stars). 
We're one of the best you can get for finding the highest quality products to sell in your store, all from trusted suppliers in the USA, EU, CAN and beyond. Of course, we're also new and a work in progress, but we're always ready to fix any issues you may have and make this app even better based on your feedback. 
So, AppScenic gives ecommerce Shopify store owners access to high-quality dropshipping and wholesale suppliers from countries all over the world. At the moment, our products catalog has over 1 million dropshipping products from USA, UK or EU warehouses. On top of this, you can also benefit from a complete dropshipping automation toolkit, which includes features like 24/7 product price and stock sync, auto-ordering and automatic payment or auto-import tracking numbers.
Check everything you need to know about AppScenice
Key features 
Price & stock sync 24/7 between store owners and suppliers

Auto-ordering and automatic payments via an innovative wallet system

Auto-import tracking numbers & shipments management 

Auto-import products to your store with one click
Pricing
You can start with a Free plan that includes one connected store and 500 products. You can use that for as long as you want, and when you're ready to import more products you can choose one of our paid plans, starting at $37/month.
With a 4.5 rating, Printful is one of the best print-on-demand dropshipping apps on Shopify. If you want to sell printed or embroidered t-shirts, hoodies or other apparel, then Printful is a great app to source these types of products. 
As it's a full dropshipping app, you will only need to create your designs and list the products on your store, the rest is done by Printful, from inventory, equipment and product shipping.
Key features
You can choose from over 300 premium products to design and add to your Shopify store

They handle the order inventory, equipment, and shipping

Access to built-in tools to create product designs
Pricing
They have a free plan available that gives you 20% off and free shipping for samples. Their paid plans start from $9/month and include more great features.
Oberlo is the dropshipping app made by Shopify and it's one of the most popular apps as it lets you import and dropship products from AliExpress directly to your Shopify store. It also offers inventory and price auto-updates in real-time, among other features.
Key features
You only need to pay the inventory price once your customer pays you

Real-time updates of inventory and prices 

Shipping is done by the supplier
Pricing
They offer a free plan and a paid plan that starts from $29.90/month. But you don't know exactly what are the extra features for the pain plan as they don't state that on the Shopify app store.
Other awesome Shopify apps for your dropshipping store
Pagefly – the best app for building landing pages
With a 4.9 rating on Shopify, PageFly is one of the best (if not the best) apps you can use for creating amazing product pages, blogs, FAQs, About Us pages, and all types of landing pages for your online store. 
Key features
Easy to create landing pages with drag and drop tools

Over 50 high conversions templates and over 40 eye-catching page elements

Mobile-friendly design
Pricing
They have a free plan you can use forever and their paid plans start at $29/month.
UpPromote has been the 1st affiliate marketing on Shopify app store (with 4.9 average rating from 1600+ reviews) for a while now. This is an all-in-one automatic affiliate and influencer marketing solution for Shopify retailers. With UpPromote, you can create and manage your affiliate marketing campaigns.
Key features
It's simple to set up with a

quick onboarding process

You can t

rack all referral orders and manage your affiliate performance via multiple tracking methods

Offers a free listing on

UpPromote Marketplace

Has a customer referral feature

that allows your customers to refer your products to their friends and family and earn a small commission
Pricing
UpPromote offers a free plan you can use forever and their paid plans start at $21.99/month
Instafeed – the best app for social media marketing
This is another great and must-have app for your Shopify store (with a rating of 4.9) as it helps you add a custom shoppable Instagram feed on your Shopify store. This will in turn create social proof for your store and can increase your sales by giving your customers the chance to shop the look that appears on your feeds. 
Key features
Have social proof by using your Instagram feed

Your users have the chance to see how your products look in real life

Increase your Instagram account followers, and also get more of your Instagram followers to become customers
Pricing
They have a forever free plan available but if you want to choose a paid plan, then you can start with the $4.99/month one that has many great features, from product tagging to displaying like, among others.
Having a Shopify rating of 5.0, this app is the best for creating Google Shopping feeds and running Google Ads. It also lets you create and verify a Google Merchant Center account. 
Key features
It's an easy way to set up a Google Merchant Center & Google Product Feed and start running Google Ads

It provides multi-currencies and multi-languages

You can optimize your Google Shopping feed using an Audit score
Pricing
They have a free plan for up to 10 orders and unlimited products. You can also choose one of their paid plans that start at $4.99/month.
Let's sum up
As you can see, there are many great Shopify apps you can use for your dropshipping store. Now, we recommend picking one from each category if you want to grow and attract more users to your store. 
Visit the Shopify App Store if you want to search for more apps by different filters and check for yourself what works or not for your store. 
If you just started to dropship and you're not sure if Shopify is the best ecommerce platform for your type of store or skills, then read this article to see what are the differences between Shopify and WooCommerce, two of the most popular platforms you can use to build your online store from zero.