Fashion dropshipping is next in Top Niches Series. According to these statistics, the revenue of the global apparel market was approximately $1.55 trillion in 2021. This value is predicted to increase to almost $2 trillion by 2026. 
Now, if we look at these facts, it's not at all surprising that we added this niche to the most popular ones you can dropship as an ecommerce business owner.
So, read on if you want to know if the fashion niche is for you, what's that data that proves the fashion industry is profitable or what fashion products you should start selling. 
Let's start by looking at why you should start dropshipping fashion items. 
Why start dropshipping fashion products?
As said above, this is one profitable and highly trending niche. In 2021, the global fashion ecommerce market reached nearly $700 billion and this figure is expected to reach just over $1.2 trillion in 2025.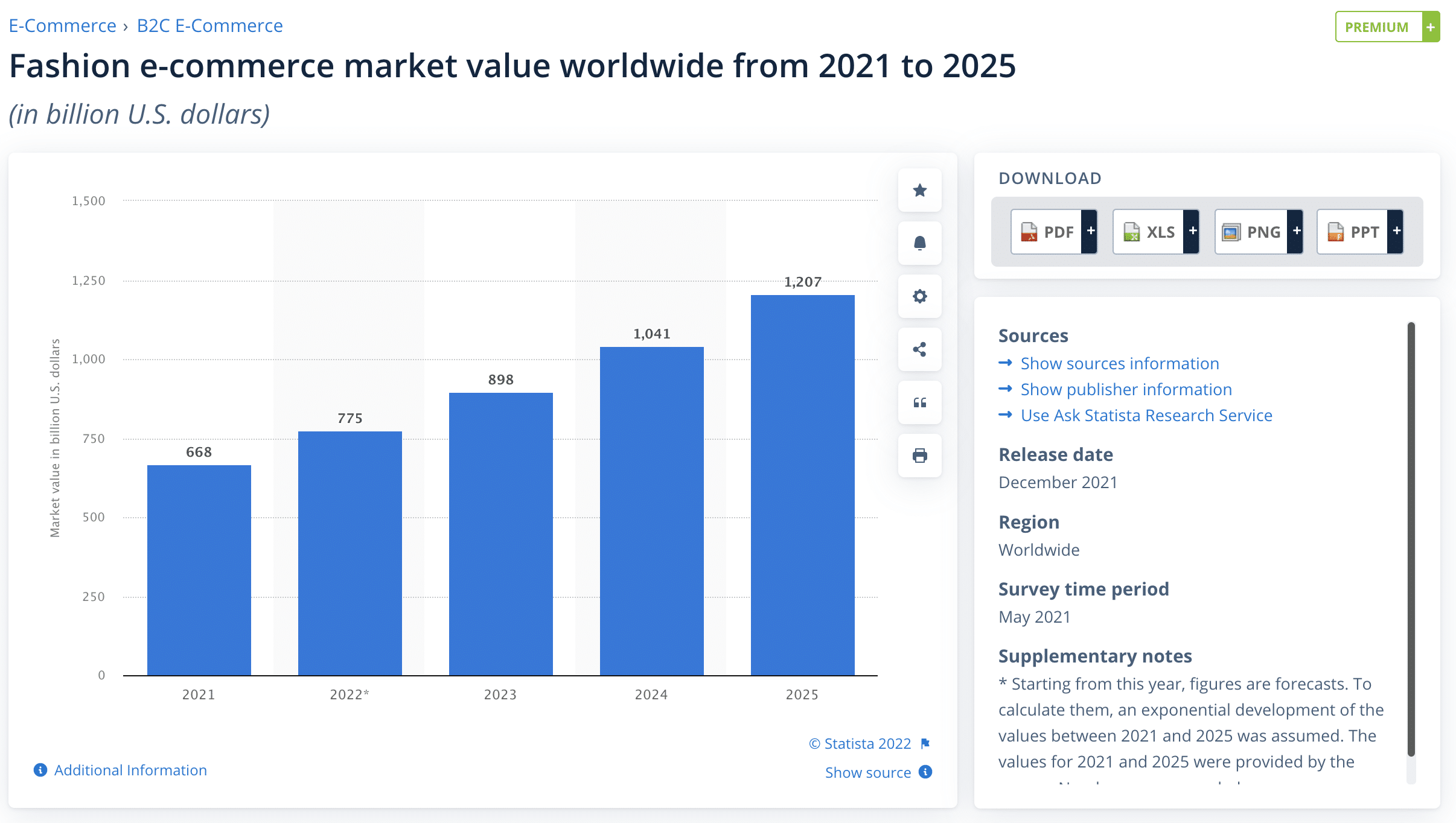 Here are more stats from Statista:
23.51 percent of total retail ecommerce sales

in the USA is from fashion ecommerce, and fashion online sales have continued to grow annually in the past two decades. In 2022,

US fashion ecommerce

revenue (fashion apparel, footwear, and accessories) will reach $205 billion. By 2025, the online fashion retail sector can reach $300 billion in sales. 

In the UK, online sales of apparel, shoes, handbags, and accessories in 2021 have been a

third of ecommerce revenue in the United Kingdom

, which means $40 billion. There are over 40 million people in the UK that buy online apparel which is now estimated to reach near $50 billion by 2025.
All the above means that by choosing to sell fashion items, such as clothes for women and men, footwear or accessories, you have a big chance to have a profitable online store. But you will have to find your audience and sell the right products to them, as this market is already crowded. 
Let's see now how a few important terms perform on Google Trends over the last 5 years. So, below we've researched terms like "fashion", "clothing" and "fashion accessories". As you can see, the search volume for all these terms has been trending high in the last 5 years worldwide.
So, let's sum up why you should start dropshipping fashion items:
– This is a very profitable and popular niche with a growing demand
– You have the possibility to dropship and test lots of different fashion products to see which one performs better in your area. 
Now, let's talk more about a few more important insights, like what fashion categories are more profitable or what is the biggest market you can sell on.
Important fashion niche insights and analytics
Here are other important statistics and insights that can help you better understand the fashion industry.  
Among the most important and profitable fashion categories, apparel, footwear and accessories are the ones that generate the most revenue. 
Of course, there are many other fashion categories you can sell, from clothes for women and men to sportswear and bags or sunglasses. What you should keep in mind is to find what is missing from your market. For example, these days there are many people interested in purchasing luxury apparel online or organic and sustainable clothes. There is also a huge audience interested in buying designer clothes or unique fashion items. 
The most trending fashion ecommerce category in the USA right now is luxury apparel – it has generated the most money per visit on average. 
More statistics about the fashion ecommerce in the USA
In the UK, the clothing category or apparel is the fashion segment that can generate the most revenue.
Here are more stats on the fashion ecommerce in the UK
In terms of leading markets, the region that generated the highest ecommerce fashion revenue was the Asian market, followed by the Americas, and then Europe. 
Check these important global fashion ecommerce insights
Now, it's time to see how important keywords are trending on Google Trends, Keyword Planner and Semrush. 
We will start with terms like "fashion for women", "clothing store" and "fashion for men" on Google Trends. As you can see, all these are highly trending on Google.
Now, we also researched for terms "fashion" and "clothing stores" on Semrush. See below how great they perform and what countries they perform the best.
We have around 300,000 monthly searches in the USA alone for "fashion", and there are over 135,000 monthly searches for "clothing stores". And the global volume is of course much higher, as you can see below. 
Let's now look at the search volumes for the same keywords on Keyword Planner. 
As you can see, the avg. monthly searches for  "fashion" and "clothing" are between 1M and 10M worldwide. "Fashion accessories" has between 10K and 100K avg. monthly searches and "footwear" has 100k and 1M avg. monthly searches with a +900% change compared to the same month in 2021. 
How much money can you make dropshipping fashion items? It depends on many factors, of course, but if you do this right, this niche can be quite profitable.
Now, according to this study, the average order value for fashion ecommerce stores, in general, is $97. The profit margin for apparel stores is between 4% and 13%, with average net margins just below 8%. Now, if we put all this together, it means that for every sale, you can make a net profit of around $7.5.
Here's an example of how much you can make per month if the average conversion rate of an ecommerce fashion store is between 1.01% and 1.41% and your store has 100,000 monthly visitors:
100,000 x $7.5 x [1.01% or 1.41%] = [$7,575 or $10,575]
This means you can make $90,900 or even $126,900 per year.
So, as you can see, it can be quite profitable to start a dropshipping fashion store. 
What are the best regions to dropship in? Looking at the above data (from Statista and Semrush), the USA, India, UK and Canada are where these products are most trending. If you decide to start a fashion dropshipping business in these countries, you need to expect higher competition. 
But keep in mind to always do extensive research and check what's trending in your area, find out what people are searching for, and see what can you bring new or better to the market. The best market is the one you know in detail, so start dropshipping only when you feel ready. 
Benefits of dropshipping fashion items
Here are the important advantages of dropshipping fashion products:
Easy to ship products: all fashion items, being footwear or clothes for women and men, are easy to transport and deliver. If these are packed accordingly, they will also get undamaged to your customer's location.
Low prices: there are fashion items that cost a lot, but if you go for accessories then these can have some of the lowest prices in the fashion market. 
Always on demand: fashion products will always be on-demand, this is an ever-trending niche. Even if a specific item can go out of being fashionable, you can always find the next big trend. 
It's easy to advertise: This niche has huge communities on almost all social media channels. This means you can target your future customers through social media ads and have great results. 
Multiply sourcing products apps: There are many suppliers and platforms that sell high-quality fashion items.
Upselling and cross-selling options: When selling a certain fashion category, for example, clothing, you can upsell and cross-sell lots of complementary products, such as accessories, footwear, etc.
Of course, dropshipping fashion products has its own disadvantages, here are the most important ones: 
Huge competition: You will have to compete with many other dropshippers, fashion ecommerce stores, and popular brands like Zara, Mango or Forever 21.
Low-profit margin: The average profit margin can be quite low,  for example between 4% and 13%. If you choose to dropship other products, such as furniture or pet supplies, you can have a higher profit margin.
High risk of returns: As most fashion products are size-based, there can be many cases when customers get a shirt, a dress or shoes that are either too big or too small. When this happens, it's likely they will return the products.
How to build a fashion dropshipping store?
Here are some of the most important steps you need to take to start a fashion dropshipping business:
Start with extensive market research

Once you decide you want to start dropship, build a solid proof business plan 

Decide on which fashion category you want to dropship 

Pick a name for your fashion online store

Now you need to Incorporate your company – a mandatory step for all ecommerce store owners

Create your ecommerce store –

you can choose to do that on Shopify or WooCommerce

Find where you can source your product from – it can be a dropshipping supplier or a platform like AppScenic where you can find multiple suppliers to work with

Now is when you setup a marketing plan and begin to advertise your products.
Check this detailed guide for starting a dropshipping business.
How to setup your fashion online business?
Once you know dropshipping is what you want to do, you need to familiarize yourself with all the legal requirements an online business needs to follow. Depending on your region, there are different legal issues you need to be aware of, that's why we always recommend talking with a legal professional about what type of company you need to setup for a dropshipping business.
Read more on the legal issues behind dropshipping
As a general rule, most dropshippers choose a sole proprietorship if they are in the USA (or a sole trader in the UK) or an LLC ( or an LTD in the UK). 
Read this article if you want to setup a dropshipping business in the USA. 
Dropshipping in the UK? Here's a guide on how to start a dropshipping business there.
What fashion products to sell?
Based on extensive research and our own experience, these are the most popular fashion products you can dropship in 2023 and beyond. 
These are the best fashion categories and some examples of the best products to sell worldwide or countries like USA or UK. To show you that all these categories are trending, we used tools like Google Trends and Semrush.
If you are not dropshipping in USA or UK, you should do your own research to check what's trending in your own region. 
This is how you know you've found a winning product
Here are some of the most popular fashion categories and products you can sell.
Apparel or Clothing
As we said in the beginning, selling clothes for women and men is among the most profitable fashion segment. But it's also the most competitive one, that's why we recommend finding what's missing in your region or what can you bring new to the market. Among the most popular clothing dropshipping product ideas unlikely to go away anytime soon are: sustainable fashion apparel, custom t-shirts or sun-protective clothing. 
Footwear
Selling different types of shoes can be a great idea for a fashion online store. Try selling unique or handcrafted shoes that are made from high-quality materials. You can also go big and sell many kinds of shoes for both women and men, but keep in mind to always offer high-quality shoes from suppliers that deliver super fast. 
Fashion Accessories
This is yet another great fashion category that can include watches, jewelry, sunglasses, bags,  gloves, scarves or hair accessories, among many others. As this is quite a popular niche in the USA or UK, you should do your research and see what's trending in your region and what can you bring more. One way you can stand out is to offer high-quality products and fast shipping.
Now in terms of specific products to sell, here are the ones that are trending these last few years according to Google Trends and Semrush.
– Women's and men's clothing: there are so many popular clothing items you can sell for women and men, such as leggings, luxury apparel, clothes for outdoor activities, mom jeans or even silk pajamas. As said before, you can stand out by choosing to sell sustainable clothing that is designed and made in an environmentally friendly way.
– Bags and wallets: Among the fashion accessories category, bags and wallets trend the most. Just like with clothing, if you choose to dropship these items, keep in mind to always sell high-quality bags from designers or suppliers that value quality and creativity. 
– Hats and hair accessories: If you choose to sell hair accessories, which is also a very popular segment of the fashion niche, you should also add different types of hats to your product range and make your store a bit more diverse. 
– Sunglasses: Selling sunglasses is highly trending in the USA, as you can see below. Try offering different models for both men and women and mix and match them for all types of occasions, such as perfect for spring or summer holidays or ideal for hiking. 
 There are many more fashion products you can sell, so the first step you need to make after deciding you want to dropship is to find out what's trending in your region and what are people looking for and can't find easily. Is there a need for sustainable clothes or maybe there is a demand for handcrafted accessories? Or do you need to have better prices and deliver your products faster than your competition? 
Once you know which direction to take, start by testing a few fashion products to see which ones perform best. 
How do you find high-quality products and reliable suppliers? Read on.
How to find the best fashion suppliers?
Just like with other dropshipping niches, you can find fashion suppliers in three different ways:
Find suppliers and work directly with them. You can google for fashion suppliers and manufacturers and contact them to see which one of them wants to work with you. 
Search for suppliers through a dropshipping platform. There are many paid or free platforms that work with thousands of verified suppliers located all around the world, such as AppScenic

. Most of the time, their services are paid, but you can try them for free in the beginning and test them out before your trial period ends. 

Look for all-in-one dropshipping platforms. This means that you can find a platform that does it all for you, from the top and fast suppliers and a catalog of unique, premium products to automated orders and inventory sync. 
And that's AppScenic. If you choose to use our platform, you have access to over 140,000 high-quality fashion products, all coming from reliable and top suppliers that can ship to USA, CAN, EU, AUS or UK. On top of that, our app will also automate the entire dropshipping process for you, from product sourcing, product import, and 24/7 stock & price sync to auto-ordering, automatic payments, auto-import tracking numbers, and many other powerful features. 
We recommend working with more suppliers and always picking the ones that are closest to your location. That way if one of them closes down or runs out of stock, you always have a backup option. 
So, to sum up, keep in mind the following when choosing a supplier:
Look for the ones that offer premium and high-quality products; make sure that's true by ordering and checking the product and the delivery process yourself

Choose reliable suppliers that you can count on

Pick suppliers that are closest to your region

Go for the ones that can ship faster

Check if they handle returns fast and smooth
How to start advertising for the fashion niche?
Did you setup your online store and import products to your store already? Then you are ready to start gaining traffic and customers.
Make sure you've also done keyword research and optimized your online store for Google as search traffic is how can people get to your website. Try optimizing your online store for keywords that are important for your audience ("like fashion for women") but also go for the ones that are not so competitive and difficult to rank for, such as long-tail keywords, like "casual date outfit"
A blog will help too, so if you can write educative and original articles based on some of these keywords, then you have greater chances to perform better on Google.
The moment you are done with SEO and also have some articles published on your blog, it's time to open social media accounts for your store and engage with your audience. The best social media channels for a fashion store are Facebook, Instagram and Pinterest, all of these have a huge fashion audience. 
After you have built a bit your pages, you can also start using Facebook, Instagram and Pinterest Ads to gain more followers and make sure you get your products in front of the right people. 
If you have enough budget, we also recommend building Google Shopping Ads campaigns. 
How much budget should you have for advertising? We think that you would need to invest much more than for other niches when advertising for a fashion store, as this is a highly competitive industry. So, you should start with $1000-$1,500. 
How much does it cost to start a dropshipping fashion store?
As we keep on saying, the fashion niche is highly competitive, which means you need a solid budget to have a chance of succeeding. You will probably need around $2000-2500 to start a fashion online store, test 20 products, and invest in advertising.
Why dropship fashion products from AppScenic?
With over 140,000 fashion items, AppScenic can be the best dropshipping platform to start with. You can find women's and men's fashion items, from t-shirts to leggings, dresses and outdoor clothes, bags and luggage for women and men or accessories like sunglasses, hats or wallets. And all coming from suppliers that can ship to USA, CAN, EU, AUS, UK and beyond.
If you decide to go for one of our paid plans, our app will automate the entire dropshipping process for you, from product sourcing, product import, and 24/7 stock & price sync to auto-ordering, automatic payments, auto-import tracking numbers, and many other powerful features. 
All these mean that you can leave the dropshipping part to AppScenic so you can take care of building and growing your online store and starting getting customers and orders. 
Here's everything you need to know about AppScenic
Ready to dropship fashion products?
This is a top niche which means that fashion will always be trending, it's an industry that will keep on growing. The difficult part is finding your place in this competitive and crowded environment. 
We hope this guide helped you better understand the fashion industry and if you would like to open a store with these types of products. 
As we always do at the end of every article in this series, we give a 7/10 rating to the fashion niche. It has one of the lowest ratings in the top dropshipping niches series mostly because even though fashion is highly trending right now, it's also a tough one, as the competition is very high. So you need to do extensive research and invest more money in advertising than you would normally do when starting dropshipping.