The beauty industry is always trending, being top of mind for lots and lots of people worldwide. These days there are thousands of beauty products you can choose to dropship depending on what you want to help people with.
As this is without question one of the most popular and profitable niches in the world, we had to include it in our Top Niches Series.
So, we've put together an extensive guide with statistics and data to prove the beauty and health industry is on the rise again. Plus a guide on how you can start dropshipping beauty products, where to find the best beauty suppliers, and what are some of the most popular beauty products these days. 
Let's begin by explaining why you should start dropshipping beauty products.
Why start dropshipping beauty and health products?
As we said, the beauty industry is one of the most popular industries worldwide. Beauty and health products are part of everyone's life, that's a fact. We all rely on beauty products in our everyday life. 
And these days, nobody can keep up with how many beauty brands appear. So, there has never been a better time to join this trend, as even though the competition is high, there is still room for new players. But what is very important when deciding to sell beauty products, maybe more important than for any other type of niche, is to be truly passionate about beauty and health care. Without being into the beauty part of our life, you probably won't make it. 
Why? This is a sensitive industry as with everything that has to do with the human body, and you will need to dig deep for the latest trends and studies in the beauty industry, so you can help people find the best products for them and make them understand how these products work, for example. 
Now, let's see what are the facts that prove the health and beauty industry is booming! So, let's start with the health and wellness industry which according to Statista was estimated at over $4.4 trillion in 2019, and is set to get to over $6 trillion by 2025.
Of course, it's the same with the beauty industry, as this one is also growing, and is predicted to exceed $716 billion by 2025.  This is one of the fastest-growing consumer markets, driven by the cosmetics and skincare segments mostly.
The USA is the leading market in the beauty industry with revenue estimated to reach around $49 billion in 2022. Below you have the average annual expenditure on cosmetics, perfume, and bath preparation products in the United States. $199 per consumer unit represents the highest expenditure in over a decade.
Now, before getting into more statistics and data to help you get the big picture around the beauty industry, let's see how general terms like "beauty products" and "beauty store" perform on Google.
So, we can say that it's definitely worth starting dropshipping beauty products in 2023 as this industry is strong and only getting stronger on a global level.
In the next chapter, we will take you through some important insights and trends that will help you know all the right facts about beauty and health. And we will also show you how a few specific terms and keywords trend on Google and other SEO tools. 
Important beauty and health niche insights and analytics
Even though the beauty industry, just like many others, has seen a decline in 2020 due to the Covid-19 pandemic, it's now confirmed that the global beauty and personal care market is entering the recovery phase.
And to prove this further, a Statista report estimated that the revenue of the beauty and personal care market (at a global level) is $564.40 billion in 2022. And the market is expected to grow annually by 4.76% from 2022 to 2026. 
Now, if we're talking about the USA market specifically, the revenue of the beauty and personal care is $87.99 billion in 2022 with the market expected to grow annually by 3.11% (in 2022-2026).
But we think the most important statistic is this one: it's expected that 25.4% of total revenue will be generated through online sales at a global level. 
So, if you want to start a dropshipping business selling beauty products online, you will be entering a growing and highly profitable market. 
All of these sound great, right?
Now, here are some more facts and statistics to help you better understand the beauty and health industry:
The United States is the leading

market for cosmetics, fragrances, and personal care products

worldwide, with a revenue of $89.5 billion in 2018. In the second place comes China, with $62 billion in the same year.
In the USA alone, the beauty and personal care market is expected to generate 32.8% of total revenue through online sales by 2022.

According to Statista,

the revenue of the US cosmetic industry

is estimated to reach around $49 billion in 2022. 

T

he average annual expenditure on cosmetics

is approximately $199 per consumer unit in the USA which is the highest expenditure in over a decade.

Purpose-driven, digitally-savvy, clinically-backed, price-accessible and approachable beauty brands are most likely to thrive post-COVID. 

Clean beauty will also become the new normal in many markets, due to consumers being more and more interested in safety and biocompatibility, regardless of the origin of ingredients.

As the largest category globally in 2020, skincare outperformed all other beauty categories. Skincare will still be the brightest spot of the global beauty industry until 2025, while bath and shower decelerate alongside a moderation of preventative health urgency. 

Colour cosmetics and fragrances are expected to make a healthy rebound over the 5-year period. (Source:

Euromonitor International

)
Here are more facts about the beauty industry
Now it's time to look at a few important keywords of the beauty industry and see how they all perform on Google. We will use Google Trends, Keyword Planner, and Semrush like we always do.
Below you can see how search terms like "beauty store" "makeup products", "skincare" "health care products", "haircare" or "bodycare" perform on Google Trends. And, as expected, all these terms are very popular. 
Here are also the search volumes for the same keywords on Keyword Planner and Semrush.
Now, as you can see all of them have huge search volumes worldwide and in the USA which means they are also very difficult to compete for, as there are many stores that already rank pretty high for each of these. But this doesn't mean you don't have any chance, you just need to find new creative ways to get your products in front of the right people. 
We will talk about keywords for specific products and how popular are they on Google in the next chapters.
What are the best countries to dropship beauty products? That would be the USA, but China and the EU are huge markets too. Of course, it all depends on the region you're more comfortable building an online store in. For example, if you are living in one of the EU countries then you should start selling to all EU countries. 
But, if we look at the above data, we can see that the monthly searches for those terms are higher in USA and India. And as we said above, in the USA the most searched beauty category that also generated the highest sales is skincare. 
Benefits of choosing to dropship beauty and health products
The data clearly shows that the beauty industry will be trending for many years, which means this niche is great for both beginners and experienced entrepreneurs.
Now, let's see what are some great benefits of selling beauty products.
A niche that will always be trending
People will always be using beauty and health care products, so this niche is evergreen and on-trend. Not only will this niche be always trending, but people purchase these products regularly, which means you will have a steady demand.
Plenty of choices 
This is a niche that has tens of subcategories you can choose to dropship, such skincare products, hair products, makeup, men's fragrances or skincare, supplements or massage tools. And the list goes on and on. All these beauty products have huge marketing potential and if you decide to specialise and offer only a few but highly precious skincare products, for example, you have a better chance of beating your competition.
Easy to sell online
As the data pointed out already, more and more people love to buy their skincare or bodycare products online, which means now is the perfect time to join this niche and open an online beauty store. And being that your audience is online so much, you can use this to your advantage and start promoting your products on social media, such as Instagram and Pinterest.
Easy to deliver
Beauty products are small items, which makes them quite easy to be transported and delivered to your customers. This means less shipping costs and even fewer chances to have the product damaged when delivered. As the shipping costs are low if you deliver from the same country, you can offer free shipping from time to time or after a certain amount. 
Easy to test and change your product range
As there are so many new beauty products on a yearly base, it's simple to change your range and test new products when the old ones seem to have a low demand. This is one of the pros of owning a dropshipping online store and not a physical one, you just remove the products that don't sell anymore and add new ones with a few clicks. 
Products bought in bulk
People will not only come back for more products if they are happy with the overall shopping experience they had in your store, but they will also buy them in bulk or in big sizes. So be sure to offer discounts if they want to buy more than 1 of the same product. 
Now, you should also be aware of the next aspects when starting to sell beauty products: 
There are some beauty products like skincare creams or oils that you need to be very careful with if you decide to dropship them. The reason is that such products have bigger chances of being returned.

Some skincare or bodycare products can cause various allergic reactions or harmful side effects, so make this very clear on their respective product pages by adding this sentence: if you experience any side effects, stop using this product at once. Of course, all products for the skin have this written on their packaging, but as the customer bought them from your store, they will hold you responsible for anything happening to them.

You really need to know what you're selling, so if you're not into cosmetics, creams, and skincare, then you shouldn't sell these products. If you do decide to sell skincare products, like face creams, masks, eye patches or anti-aging products, then make sure their quality is the best on the market, they have been dermatologically tested, etc. 

Rather than selling skincare, if you don't want to spend the time to research the field, you can sell beauty and health care tools, such as jade rollers or facial massagers and other face cleaning tools. 
How to build a great beauty and health care dropshipping store?
Here are the main steps you need to follow to start a beauty dropshipping business:
Research the dropshipping business model and the data around the beauty and health care niche

Create your business plan specifically for selling beauty products online

Choose a beauty category – the best way to start is to choose to sell only a specific type of beauty products, for example, skincare or body care products

Now you have to choose a name for your business and online store

You need to incorporate your company in order to pay taxes and receive payments as a dropshipper

You're ready to start setting up your ecommerce store – check

Shopify or WooCommerce

Once your online store is ready, you also need to find a dropshipping platform with high-quality beauty products from reliable suppliers that can ship fast to your region

Choose which products to add to your store, rewrite their content and add pictures. 

The final step is to start selling and to do that you need a marketing strategy that gets your products in front of the right people.
Read more on each of these steps in our guide for starting a dropshipping business.
How to setup a beauty and health care online business?
In order for you to be owning and managing a dropshipping business, you will need to set up your online business properly. This means that you will need to get accustomed to all the legal issues and requirements an online business has to comply with. 
So, first, you should start by checking what are the legal obligations in your region and then talk with an attorney or other legal professional about what type of company you need to setup for your dropshipping business.
More on legal issues behind dropshipping
We can tell you that most dropshippers choose to go for a sole proprietorship or LLC.
Check this article on how can you setup a dropshipping business in the USA or this guide on how to start a dropshipping business in the UK.
What are the best beauty and health care products to dropship?
Product research is a must when starting any type of dropshipping business as you need to check what works or what's missing from your area. What can you bring that can set you apart? What type of beauty products can help your store become a name in this highly trending beauty market?
To help you make a decision or have an idea about what's trending these days, we did our own extensive research on Google, with tools like Google Trends, Semrush and Keyword Planner, and here are the best beauty and health care categories and products to sell now. 
Haircare and styling tools
In the USA, the haircare market is expected to grow by 1.11% between 2022 and 2026. This means that offering styling tools, brushes, or shampoos can be a great start for a beauty store. 
Health care products
Another trending beauty category, the health care product range includes lots of different products, from scalp or body massagers to mineral bath salts. It's up to you to choose the products you want to sell. 
Makeup products
Cosmetics like makeup products are also a great idea for an online store. But, as we said before, you need to know what you are selling, so it's recommended that you're actually passionate about makeup if you're starting such a store. You can go for makeup accessories, like brushes or face sponges and eyelash curlers, or makeup palettes and eye shadows.
Skincare products
Skincare is the most profitable category of the beauty niche, but it's also the most competitive one. So, before choosing to sell skincare, do your research and check what are the best products you can sell in your region. See if using clean cosmetics, like face creams or lotions, balms and anti-aging oils or facial masks can make a difference for your store. 
Men's fragrance and skincare
It seems that more and more men spend a certain amount ($29 per month) on beauty products and the USA male grooming products market it's actually growing. So, be sure to tap this market by adding grooming accessories, beard shampoos and balms, oils, beard shaping combs, and such products for men.
Let's see what are the best-selling and trending beauty items you can sell in your dropshipping store. To give you all the data that states these are great products to sell, we've also added the Google Trends and Semrush results for each of them. 
– IPL hair removal: standing for "Intense Pulsed Light" technology, this product it's trending for quite some time and the interest for it gets higher and higher, as you can see below. It's used by both women and men, so you can target a huge audience with ads for this product. 
– Nail kits: due to Covid, more and more women have started doing their nails at home, and they are still on trend, even if we're in the post covid times. You can add nail kits that include tools and accessories or others just with nail polishes and LED lamps. 
– Hair dryer brushes: these innovative products are designed to dry and style the hair at the same time. How awesome does that sound?!? It's no surprise these 2-in-1 items are so in demand right now.
– Hair extensions: by adding these products, your haircare range will be complete, as hair extensions are used in the last step of a hair routine to add volume, length, or color to any type of hair. So, make sure to add different colors, lengths or styles.
– Jade roller: this is one of the best-selling beauty products in 2021 and 2022, so if you decide to open a skincare beauty store, you should definitely include this product in your range. Massage or jade rollers are expected to continue being on-trend over the next few years too. 
Scalp massager: this is a great product to include in your haircare online store. The scalp massager has great benefits for the scalp as well as for hair. Start by adding a few different types to your dropshipping store, so you can check which one performs the best.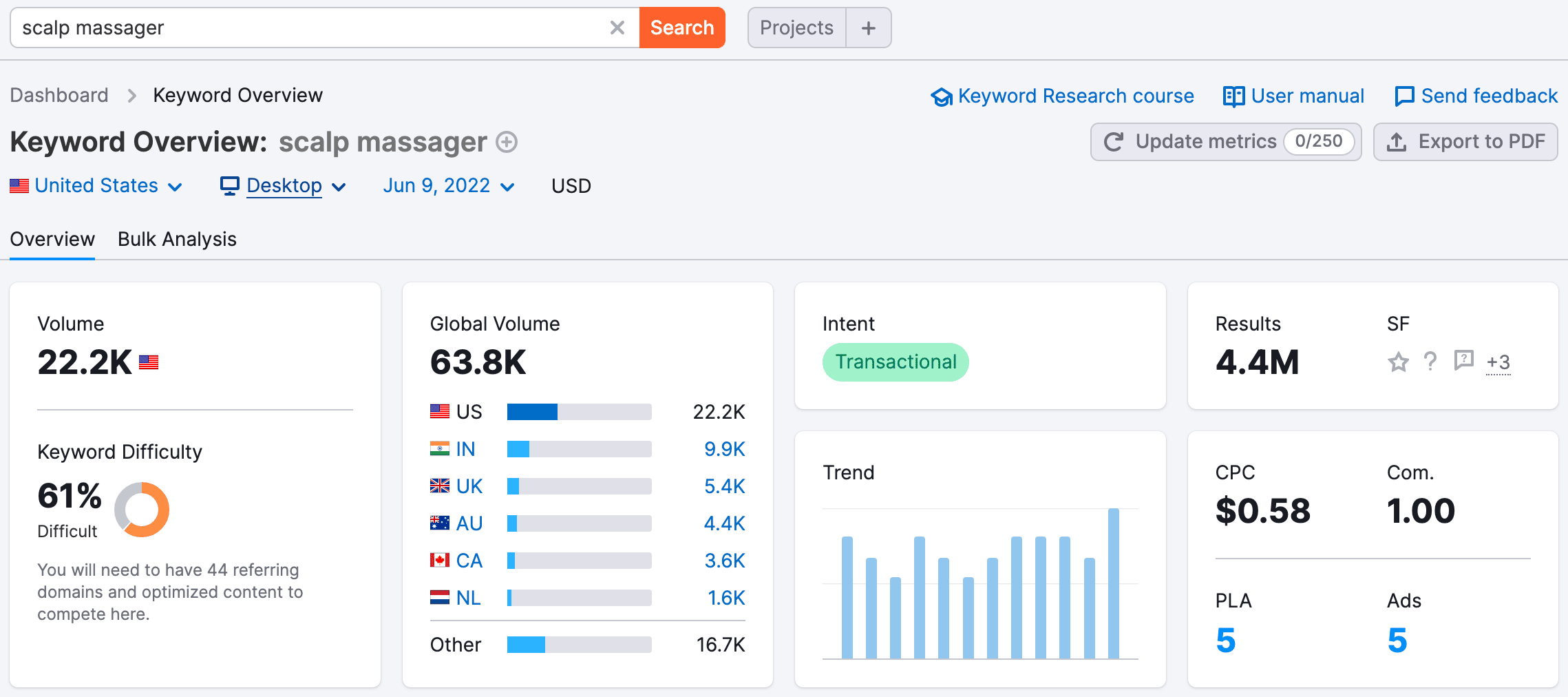 Facial cleansing brush: this is a skincare tool recommended by most dermatologists and cosmeticians out there, so be sure to include it in your beauty store if you want to sell skincare tools. It's mostly trending in the UK and USA, so if you sell there, then add a few and test them out.
Makeup sponge blender: one of the best tools for applying foundation, this sponge is a forever favorite of women worldwide. Beauty Blender is the brand that first created it, but these days there are lots of high-end brands that have their own sponges, so you can take your pick. Sell different sizes, shapes, or colors, and you can also try selling sponges in packs.
So, these are our picks for the best beauty products you can sell. Of course, there are many others out there, as we said, this is a niche with lots and lots of subcategories you can choose from. And new products are appearing yearly, if not more frequently. 
As always, make your own research about the region you're thinking of selling beauty products and check what's trending. And start by choosing a single category, such as haircare or men's skincare, and choose a few products, in the beginning, to test them on your market. 
What's next? Well, after you decided on which products to sell, you need to find the best suppliers with the highest quality beauty products on the market. 
How to find beauty and health products suppliers?
To make sure you have a chance in the beauty world, you need to find the right beauty suppliers for your online dropshipping store. 
That's why after you decided on the type of beauty products to sell, what's your region and started building your online store, you have to start researching which are the best suppliers or dropshipping platforms you can use for your online store. 
Now, if you're just starting in this dropshipping world, then we recommend testing multiple platforms (most dropshipping platforms have a trial period or even offer a Free Account) and checking their product catalogue, if they sell high-quality products and what's the shipping time and cost. These are probably the most important aspects that can make or break any online store. 
Also, always have more than one supplier, in case your first supplier runs out of stock or closes down. On top of this, by working with more than one supplier, you can test different types of products and see which ones sell better and which suppliers have the best delivery time or return policy.
Where you can find suppliers? Well, by doing a simple google search you can read and check what are the best beauty suppliers out there. You can either choose to work with independent suppliers on marketplaces like Amazon or eBay or choose dropshipping platforms like AppScenic. 
The best way it's to try both these options and see which one works better for you. The main difference between independent suppliers and dropshipping platforms has to do with how much time you have to spend on contacting and doing a lot on your own. When you choose a dropshipping platform with multiple suppliers, you actually don't need to do a lot, as most of the time all is automated,  you can spend your time actually selling the products. 
So, to sum up, here's what you need to make sure of when you decide on the suppliers: 
That their prices for beauty products work for you

That they have an extensive catalogue of high-quality beauty products that you need for your store

That they ship fast and ultra-fast to your country – this is highly important

That their fees for shipping and membership fit into your budget

That they have a great return policy.
How to start advertising for the beauty and health niche?
Just like the fashion niche, the beauty industry is also highly competitive. Now, even though your audience is online, it can be difficult to reach them and have them click on your posts or ADs without investing a lot. So, that's the first thing you need to know, to succeed and stand out in the beauty world as a new store, you need to put some extra money and invest time into correctly targeting your audience. 
So, here are the channels you need to be present on if you want to start generating traffic and sales on your online store.
Social media marketing: this is the best way to get to your customers, so you need to have active social media accounts on various platforms like Facebook, Instagram, Pinterest, TikTok and YouTube. Of course, you can start with Instagram and Facebook and build your social media presence from there. Make sure you use their Ads platforms too so you can build your audience.
SEO and Google: if you optimise your website (and blog, if you have one) right for Google, then you may have a chance of having some organic traffic too. Be sure to set Google Ads and Shopping Ads, this is a must for this industry
Blog: In the beauty industry having a blog is a great tool to gain more traffic and eventually orders. So, make sure you write some unique articles and help your customers make the right decision for their beauty routine. 
Influencers: reviews are probably your most important assets aside from the actual products. One way to gain credibility is to choose the best beauty influencers on social media in your region (you can start with the ones that have a small community), give them some products to test and hope they will tell their community how great is your product and that they can buy from your store. The best platforms for influencer marketing are Facebook, Instagram and YouTube.
Offer deals and promotions on all your channels: by giving your customers and prospects discounts and special offers from time to time, you show them you care. You can even engage with them by setting up contests on social media asking them to do something so they can win a product or even a gift set. 
Ask customers for reviews: another great tool to gain traffic and more orders is to have as many reviews on your website and Facebook page as possible. Just like influencers, this will give you more credibility and will make your customers believe in you and the products you sell. 
How much to invest in advertising beauty products? Well, as we said already, this is a highly competitive niche, so we think you should start with $1000-$1,500.
How much money do you need to start a beauty and health dropshipping store?
This is a hard question, as it's quite difficult to know how much money you need to open an online beauty store. It depends on so many aspects, from the ecommerce platform you use to build your store and the apps you want to add to your store to all the legal parts around a business. 
But, for the sake of this article, just like we did for the others, we can say that it may cost you around $2000-2500 to start an online store, source and test different beauty products (around 20), and also advertise and fulfill orders.
Here's more about the actual cost behind dropshipping and what it does involve
Why dropship beauty and health products from AppScenic?
With over 120,000 beauty products available, AppScenic is one of the best dropshipping platforms for sourcing high-quality beauty products from suppliers that can ship to USA, CAN, EU, UK, among other top locations.
More than that, our app will automate everything for you, from importing and syncing products to orders, payments, tracking numbers and more. 
If you check the beauty, health and hair category on AppScenic, you will find lots of skincare, health care, haircare, makeup products and even beauty tools and accessories. 
Everything you need to know about AppScenic
Ready to start dropshipping beauty and health care products?
If you love the beauty industry and have a deep passion for it, then dropshipping beauty products is the right way to start an online store. Of course, you need to be aware that this is a very competitive business and setting up an online store will be challenging. So, be prepared to work long hours and put the extra work in. 
But, as long as you do the work, and know your industry, products, and your customers, then the beauty industry can be great for you. Even though it's a competitive industry, there is still a place for newcomers. Just be aware that is essential to find the right products to sell to the right people, may have to invest some money and have to wait a bit for your first orders to come.  
What's our rating for the beauty industry? This is 8/10 with the clear understanding that this is not a niche for everybody. You need to know the business, either by studying it or having some experience in the beauty world. It's very competitive, with many great players already, so you need to find your beauty niche and audience. 
In case you made up your mind, and dropshipping beauty products is what you want to do, then congrats and happy dropshipping. 
Sign in now for a Free Account and check our beauty catalogue
Want to check other top niches? Then read now all our articles in our Top Niches Series