The home and garden niche has been trending high for many years. That's mostly because most home decor or garden products have a huge audience and it's expected to stay top of mind in the foreseeable future too.
Read on to discover the most important reasons why dropshipping home goods can be a great idea for your online store, the insights that prove home decor products are trending and what type of home products trended better in the last couple of years, and many more.
Let's start.
Why start dropshipping home and garden items?
If you love home decor and accessories or garden items and want to start a dropshipping store where you can sell all these, then you couldn't have picked a better time to do just that. This niche is still growing each year. 
After Covid, more and more people work from home which means they spend much more time inside their house. As a result of this, people care more about how their home looks and feels. 
That's one important reason why home decor products are now trending so high these days. In 2021, the ecommerce revenue from home decor and furniture was approx. $132 billion and is expected to get to over $208 billion by 2025. And this is only in the USA alone, which makes the global revenue much bigger. 
Now, if we're just talking about the home decor market, this is expected to reach $202 billion in 2024, which is a 20 percent increase from 2019. 
So, as you can see it's still room for other online stores in this niche, and what better way to get into selling home goods than by dropshipping them? When you dropship, you don't need to worry about storing or shipping these items. 
These all seem amazing, but keep in mind that dropshipping is not a get-rich-quick scheme, and you will need to put in a lot of effort, research and planning to get your business running. 
Check this article for furniture dropshipping niche insights
Important home and garden niche insights and analytics
As we always do, this section is about providing some useful insights about the home niche and then showing you a few important keywords of this niche and how they trend on Google Trends, Keyword Planner, or other SEO tools, like Semrush and Moz. 
Now, what does this market includes? Well, this market consists of home furniture, cookware, gardening equipment, and household accessories. So one of the best things about the home goods industry is that it covers a wide range of products, from furniture (which are high-ticket products) for your living room to artwork for your bedroom or office wall (which can be low-ticket products).
In the USA alone the home décor market has been forecasted to reach $202 billion by 2024. The furniture and home furnishing sales were 17.28 percent of total retail e-commerce sales in the USA in 2021. As you can see below this trend is expected to be slowly reduced until 2025 when it could be less than 15.66 percent of total retail ecommerce sales in the United States. 
But don't worry this only applies to the USA and it is still a great number, which shouldn't change your mind about this niche. It only means that USA is a very complex market where you will need to work extra hard to beat giants like Ikea.
 Here are some more important insights about this niche:
According to this

report

, online home goods sales picked up in 2020 due to the pandemic. As stores closed and consumers were quarantined in their homes, more and more people started to buy home and garden items online. 

Another report states that in 2019,

the global home decor market

was valued at $616.6 billion. And the same analysts expect this industry to grow by 3,7% every year and reach 838.6 billion by 2027.

In 2019, floor coverings were the segment with the most significant revenue share in the overall global home decor market.

The home decor niche is trending significantly high in USA, Canada, and Germany or UK, while consumer demand in emerging countries such as China, Brazil, and India it's expected to increase.

Traditional home decor stores still account for most of the retail sales in this industry, but the ecommerce segment is expected to grow during the next years due to the fact that it's getting easier and easier to use smartphones for online shopping.

IKEA, Wayfair, and Bed Bath & Beyond are among the

leaders in the home décor and furnishing industry in the United States

.
Now, let's check how a few important keywords are trending on Google, Keyword Planner and Semrush. 
We will start with the search term "home decor", "home accessories" and "gardening" on Google Trends which, as you can see below, shows already how popular is to start dropshipping furniture.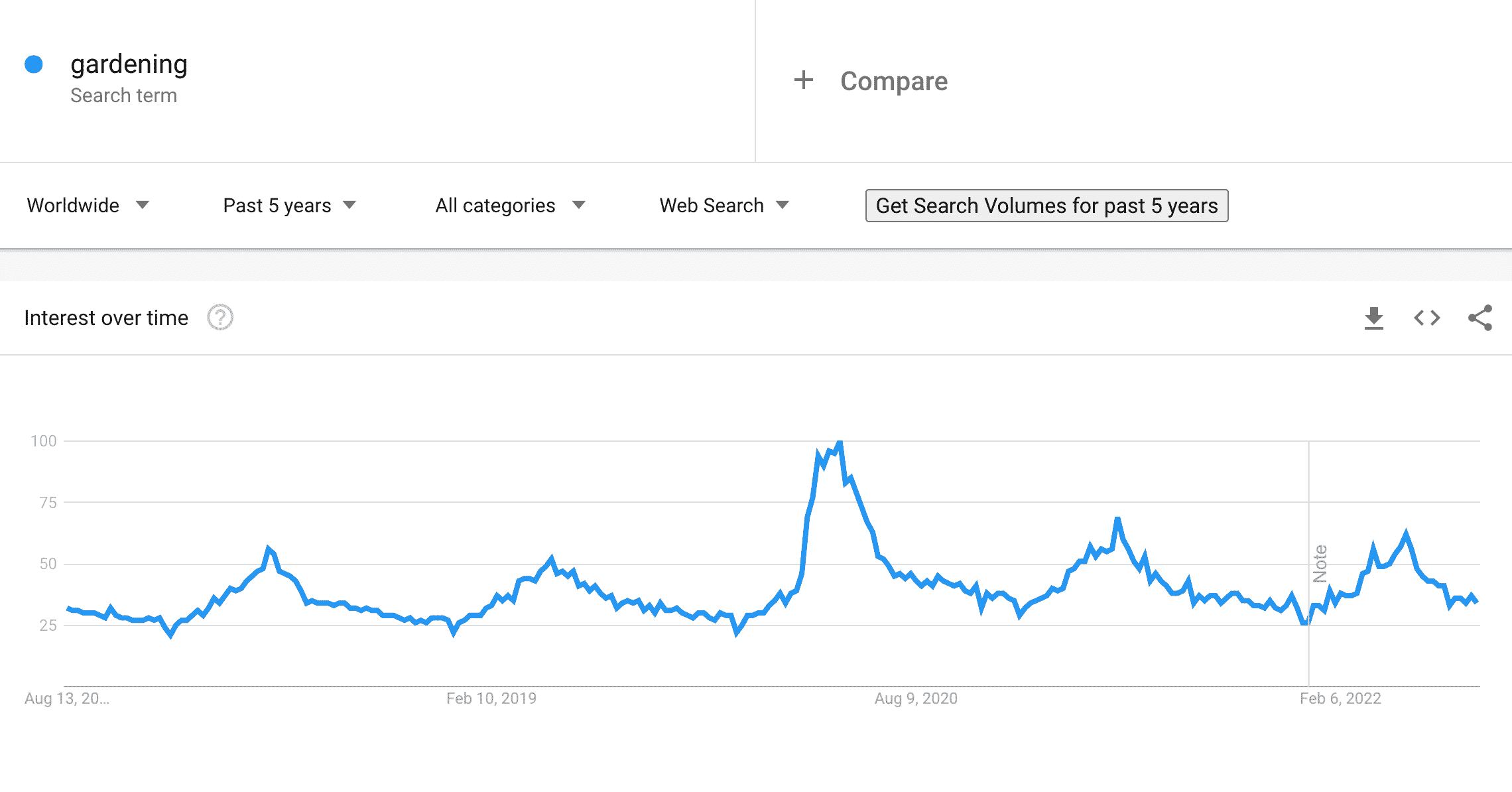 For more proof of how popular is this niche, let's look also at the search volumes for home items and other related keywords on Semrush and Keyword Planner.
So, as you can see, the avg. monthly searches for these terms are huge in countries like USA, CAN or UK. 
What are the countries you should dropship home products in? Now, if we look at the data from Semrush, we can see that the monthly searches for those terms are higher in USA, India, UK or Canada. But this doesn't mean that you should start selling in those regions just because of this data. 
This choice should be based on many other factors, for example, what exactly is trending in your region, what's the competition, and what are some items that customers are looking for and have difficulty finding in the country you want to dropship in? Most importantly, what's the market you know the best? Is it the USA or the EU? 
You need to first decide where you want to sell your products and then start researching what's trending there in terms of products for the home and garden.
Benefits of dropshipping products for home and garden
In case the data above didn't help you make up your mind about dropshipping home products, here are more benefits of starting an online store specializing in home improvements, home decor, home accessories and garden products. 
Lots and lots of product subcategories to choose from (from furniture and rugs to candle holders and wall deco): this niche has so many different subcategories, and this makes it easy for you to have a few great items to put together a great home collection. 
Dropshipping is the best way to start selling home items as it would be quite difficult and expensive to buy inventory for so many different subcategories of the niche. And you won't need to pay upfront, it also makes it easy for you to test a wide range of products so you can determine which items sell best for your home decor store and start focusing on those. 
Home & garden is an evergreen niche that will keep on growing every year (or at least keep a steady level). 
The fact that the home decor products include so many different items (such as furniture pieces, rugs, bath textiles, bed textiles, kitchen and dining textiles or tiles, wood and laminate, vinyl, and many others) means this is a huge market where more players, like you, can still find a place, especially if you find out what sells the best in your region. 
If you go for low-price products, then these home decor products can have an extremely low initial price and a higher markup. 
Most of the home items look amazing which makes it easier for you to build a very cool online store.
How to build a home decor dropshipping store?
As this article is not about this, we will only mention the main steps you need to follow to start a dropshipping business. 
Here they are: 
Start by researching the home and garden niche and then learn all you can about the dropshipping business model. You need to be sure this niche and type of ecommerce store fit you. 

Make a business plan that's specifically built for selling these types of products online. 

Choose the type of home decor products you want to sell – if you're now just starting in the dropshipping world, we recommend selling just a few items from each best-performing home category (see below what are the best products to sell).

Decide on a name for your online store – this step comes after you know for sure what are you going to sell and where are you going to sell your products. The name for your business should also be available as a domain name. 

You also need to incorporate your company – a mandatory step for every dropshipper.

Now is when you can also start to build your ecommerce store – a very important step in your dropshipping journey.

Finding a

dropshipping supplier

from whom to source your products is highly important – see below how you can find the best suppliers. 

You can now start advertising your products – you need to actually get your products in front of the right people so you can start selling.
Before actually dropshipping you need to study and learn all about each of these steps. 
Here is our detailed guide for starting a dropshipping business. 
How to setup your home decor online business?
Setting up your dropshipping business correctly right from the start can have great legal and financial implications for your business. 
So, make sure you read about all the legal issues and requirements for such an online business and check what are the legal obligations in your region. Then together with an attorney or another legal professional, you can decide what type of company you need to setup.
What are the legal issues behind dropshipping
Most dropshippers choose to setup a sole proprietorship (or a sole trader in the UK) or an LLC (known as LTD in the UK). 
Now, here's an extensive guide for setting up a dropshipping business in the USA.
If you are in the UK or want to dropship there, then check this guide on how to start a dropshipping business in the UK.
What are the best products for the home and garden to dropship?
If you got to this stage of your dropshipping journey, then now is when you put all your time and efforts into product research. This step, choosing the types of products to sell on your home and garden online store, is essential, and one of the most important steps on your way to a successful dropshipping business.
So, we have researched and put together a list of the best and most popular home and garden products you can start to dropship. 
How did these products get into our list? Well, we used the mighty Google, and tools like Google Trends, Semrush, Keyword Planner or Moz. On top of these, we used our own experience to make the final decision about what should be on the list of home and garden subcategories and on the list with the best specific products you can sell. 
Let's start with the best home and garden subcategories you can sell:
Home decor 
Home decor is probably the first thing that comes to mind when talking about this niche. The USA home decor market was valued at $190.96 billion in 2020 and will get to $283 billion by the end of 2026. And more and more people are purchasing home decor products online these days, and this category is expected to generate even more sales in the coming years. And that was to be expected if we think that Generation Z and Millennials are even buying decor products via social media.
Arts and prints 
As we will see in the next part, the one where we talk about the best products to sell, arts and prints are trending high according to Google Trends. This is a subcategory that will keep on having a consistent demand. If you want to add such products, make sure you add different designs that appeal to a larger audience. 
Storage and space organization
Storage is also a great subcategory of the home niche. We will want to have such items in our house, storage is an important aspect of having the dream house.  Many families today have so many things that storing them can become a problem. And this study says the sales for home organization items have been estimated to reach $11.8 billion in 2021, which represented a 3.8% increase.
Textile and rugs
As you can imagine, floor rugs and other such textiles will never go out of style. These products can add color and a certain vibe to all flooring materials and make any room full of life. So, as for other home decor products, add many types so that you can attract all types of customers. 
Garden and patio items
Garden and patio items can also be great for any type of home and garden store. Lots of people spend their time in their garden and are always on the look for the best products to keep their garden and lawns well kept and clean. Only in the USA people are spending on gardening $2.5 billion. 
Now, below you have a few furniture items that have been trending in the last couple of years. And to prove that we added the Google Trends and Semrush results for each of them. 
–  Wall clocks: part of the home decor subcategory, wall clocks have double benefits, can be decorative items and are also useful, as they show the time. Plus who doesn't have at least one wall clock in their house? So, if you sell home decor items, make sure you add a few different wall clocks to your store too. 
– Wall decals and stickers: highly trending in the last couple of years, wall art decals and stickers can be applied directly to the painted surface of any wall in a house. They even look like a painting on your wall and can even create quite a dramatic effect in a room. And, what is even best, they can be removed and changed with others as many times as you want. Make sure you add various designs. You can also add wall stickers for kids' and babies' rooms and also stickers that glow in the dark.
– Cushion covers: If you think that cushions can't still be trending, you are wrong. If you open up a home decor store, you should definitely add a few side cushions and throw cushions, as these are standards in the world of interior decorating. These "boring" products add color to any room and some are really comfortable to take a quick nap on. And people do change them quite often, as they can bring a new look to your room with just a minimal investment. As you can see on Google Trends below, these are still trending which means the demand is also high and steady. So, add various designs and sizes to attract as many customers as possible.
–  Lamps: another constant product that's always trending, mostly because people need lamps today and will still do in the future. And today, we have even more types of lamps, from smart lamps to standalone floor lamps and table lamps. There are lamps that even show the clock and the temperature in the room. The only issue with lamps is the fact that some can be delicate and breakable. So, maybe choose lamps with a more robust design and less glass that are less likely to be damaged in shipping.
 – Storage boxes: there are decorative or attractive boxes and normal boxes to help you store all kinds of stuff. There are so many kinds of boxes to keep shoes, clothing, tools, fashion jewelry, stationery, clothing, hand towels, fruits, and so on. So, make sure you add many types of storage boxes. 
– Candles and candle holders: these products play a very important role in a home and are also likely to be bought as a gift for loved ones. And we can see this on the search trend going up around early October and continuing until early December. So, we recommend adding candle holders and candles to your store during those months. 
 – Coasters: if we look at the search trend, coasters are quite interesting products. As candles, many people shop for coasters during Christmas, which probably means that they buy them as a gift or to make their Christmas table more festive. So, even if these can be viewed as seasonal products, it is still great to have a few added to your store for the holidays or just for the summer season when people most likely enjoy a nice beverage outside.
– Oil diffusers: essential oils are hot products for a while now. The global essential oil market is expected to grow with a CAGR of 8% from 2019 to 2024. All this means that the interest in oil diffusers is very high and will keep growing. We recommend selling essential oil bundles or an oil diffuser along with various essential oils. 
– Garden tool set: if you want to add gardening items to your home decor store, for example, then you can start by selling these garden tool sets. And these products can be cheap or not, so if you're now just starting, we recommend adding a few from different price ranges. 
– Hanging plant pots: depending on the subcategory you choose for your home and garden store, you can also add these trending products. Hanging plant pots can be added both in the home and in the garden, so they can appeal to home decor and gardening audiences. They also make a perfect gift for plant lovers.  
These are just some of the home and garden items trending in the last couple of years. But there are many more others out there that can sell great in your region. So, once you're sure about the region you want to sell in, then you should do your own research and find out what sells better in your market. 
And, don't forget to start by testing a few products from the subcategories you choose to discover which one brings you more sales. 
Now, let's discuss where you can find the best suppliers for home and garden products. 
How to find home decor and accessories suppliers?
Once you know what type of home items or garden products you want to sell, the next important decision has to do with picking the right supplier. Making the right choice when picking up your supplier can be definitive for making your store stand out in the crowd.
Before deciding or even starting to research suppliers in your area, you need to decide which type of home decor items you want to sell, where you want to sell them, and built your online store (you can choose between Shopify or WooCommerce). 
You can look for suppliers on a marketplace like Amazon or eBay or dropshipping platforms like AppScenic. It's up to you to decide what works for you. What we strongly recommend is to work with multiple suppliers so you can offer more options to your customers and have better chances of making a sale. Also, this gives you a backup option in case one of your suppliers runs out of stock or closes down. 
When having more than one supplier, you have multiple products to test out and decide what type of home decor items or gardening products sells better and which suppliers offer the best products in terms of quality, price or return options. 
Here are 5 top things to consider before deciding on a supplier
As we said, it's essential to find a supplier that can offer high-quality products, you need to take your time and not hurry when deciding which supplier or platform works better for you. 
Keep in mind to also look for suppliers with the fastest delivery times, as 42% of shoppers expect a 2-day shipping option available.
With over 270,000 products in its Home, Tools & Garden category, AppScenic has only reliable and top suppliers that can ship to USA, CAN, EU and many more countries around the world. AppScenic product catalogue includes all kinds of home products, from home deco and storage and organization to wall art and pation, lawn and garden items.  
How to start advertising for the home and garden niche?
These are the main channels you should start promoting your home and garden store:
Facebook

– Even though you may need to put some extra budget into Facebook Ads, we still think you need to be there. By having a page on Facebook and interacting with your audience there, you have a huge chance to reach your audience as long as you out some efforts into how you Ads will look like. 

Google Shopping

– You can use this for free and have your online products appear next to others from the same category when users search for a specific product on Google. We also recommend using Google Shopping Ads, that way you have a better chance to reach potential customers.

Pinterest

– You should also be on Pinterest, as

40% of users on Pinterest

earn more than $100K annually. Also, it seems that over 66% of them purchase something after they saw it pinned on this platform. 

SEO & Blogging

– If you have the resources and the time, you should build up a blog and optimize it for Google. This will help potential customers find your store when they search for extra information on Google.  
How much budget do you need for advertising your home and garden store? That depends on many factors and strategies you decide on, but if you have around $500-$1,000 to start with, then you can test different channels and Ads. 
How much money do you need to start a home & garden dropshipping store?
You will probably need at least $2000-3000 to build a user friendly home and garden online store, source and test different products for home (min 15), advertise and fulfill orders. 
As we said, this is a highly competitive niche, like most of the top niches, so you may need a bigger budget or maybe you will need less money. It all depends on the type of products you decide to go for, for example, if you want to sell accessories for home and garden, then the upfront investment won't be so high for these low-ticket products. 
On the other hand, if you decide to want to sell high-ticket products, like furniture for the pation, then you need to have a bigger budget. 
Why dropship home & garden items on AppScenic?
As we already said, if you join AppScenic, you can access over 270,000 products for home and garden, all coming from great suppliers that can ship super fast to locations like EU, USA, CAN, UK. And all of them sell unique, high-quality products and have great return policies. 
You can find home decor items like sofa cushions, artificial flowers, wall stickers, wall hangings, wall clocks, and many more products for the home. Some of this products are even handcrafted and unique. 
But AppScenic is much more than that, our platform is also a next-generation automation app. What does this mean? It will automate everything for you, such as importing and syncing products, orders, and payments, tracking numbers and more. Which in turn will give you will have more time for activities, such as actually growing and building a successful online business.
These features will actually give you more time for activities like actually growing and building a successful online business. For example, our importing and syncing products feature will help you stay on top of your product catalogue and not lose time manually updating your products. 
How to automate your store with AppScenic
Ready to start dropship products for home and garden?
This was our guide on dropshipping home items and we hope it helped you understand more about this niche and if it's for you or not. Now, if you already sell home decor products, then we also hope this guide gave you the insights you neede about products, suppliers or how this niches performs today. 
This is an an evergreen niche, one that's competitive but also perfect if you want to have some stable income for your dropshipping business. Of course, like with all popular niches, it does have advantages and disadvantages, such as lots of products to choose from (you can even sell both low-tickets or high-tickets products) or the fact that you nead to beat off giants like Ikea. 
Now, it's time to give our rating for this niche. So based on the interest and success rate and how easy or not it's to get started (plus our own experience with it), we give a rating of 8/10 to the Home & Garden niche.
Other articles from the Top Niches Series that may interest you:
Furniture dropshipping insights
Electronics and gadgets dropshipping niche insights